The Oakland Post 2010-01-20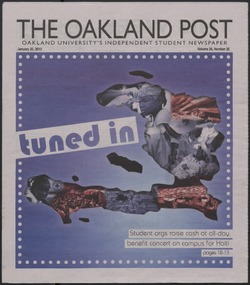 Author
---
Contributor
---
Miller, Colleen J.
Wolf, Katie
Fenner, Dan
Nguyen, Kay
Simons, Dan
Stodola, Annie
Tomrell, Alexis
Chornoby, Kaitlyn
Jacob, Katie
Jackman, Angela
Willis, Jason
Sandula, Mike
Hegedus, Ryan
Jaye, Gabrielle
McCarty, Rory
Rahman, Masudur
Culver, Bryan
O'Shaughnessy, Christy
Minnix, Shawn
Gasper, Jamie
Wood, Jennifer
Romanchik, Kevin
Field, Jillian
Lapanowski, Mallory
Lepper, Kelsey Elyse
Meade, Amanda
Nacy, David
St. Germain, Steve
Benjamin, Amanda
Description
---
Tuned In ; THIS WEEK ; STAFF EDITORIAL What's in a benefit's name? ; BLUNDERGRADS ; I will call the cops on you ; Letter to the Editor ; Union fueled up for vote: FOIA requested information adds athletic salaries to the mix ; RUSSI QUESTION & ANSWER: Additional Parking ; CAMPUS BRIEFS ; Full-year registration in the works ; New student organization recruiting students ; Students to see changes to FAFSA form ; Wanted: singers: Feel some 'Gold Vibrations' ; POLICE FILES ; Senate meeting approves new policies; new business ; STUDENT of the MONTH ; Keeper of the Dream kicks off African American celebration ; Student's faith inspires ; Daniella Saveski's legacy lives on through family and friends ; Student publishes novel ; Helping Haiti: Students Pitch In How have you helped relief efforts? ; Outside Orgs ; PERFORMING A GOOD DEED: Support and aid goes from campus to the Caribbean ; music spotlight ; Governor's race begins ; Bouchard announces Construction Jobs Now plan ; Freshman stars in victory: Win moves the Grizzlies up in Summit League standings ; Grizzlies roll to a 46-point win ; New O'rena scoreboard enhances fan experience ; Win streak reaches seven as long road trip begins ; GRIZZ OF THE WEEK ; Raising questions about the Tigers' offseason plan ; GOP Brown wins Kennedy seat ; N-W BRIEFS ; Govt. takes aim at Bible quotes on guns ; Going rabid for the Grizzlies: GO OU - editor gets fanatic about going to see home basketball games ; Cuckoo for Coco: a fan's take on late night fight: A brief history of the conflict at NBC and the battles between the talk show hosts
Date
---
2010-01-20
Subject
---
Russi, Gary
AAUP contracts
Gold Vibrations
Keeper of the Dream awards
Memorials
Haiti
Oakland Athletic Center O'rena
Rights
---
Users assume all responsibility for questions of copyright, invasion of privacy, and rights of publicity that may arise in using reproductions from the library's collections.
Collections
---