The Oakland Post 2010-01-13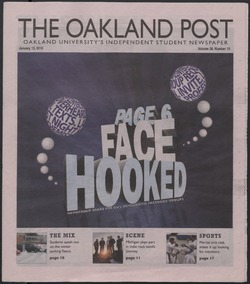 Author
---
Contributor
---
Miller, Colleen J.
Wolf, Katie
Fenner, Dan
Nguyen, Kay
Simons, Dan
Stodola, Annie
Tomrell, Alexis
Chornoby, Kaitlyn
Jacob, Katie
Jackman, Angela
Willis, Jason
Sandula, Mike
Wood, Jennifer
Hallman, Zach
Hegedus, Ryan
Jaye, Gabrielle
McCarty, Rory
Rahman, Masudur
Culver, Bryan
O'Shaughnessy, Christy
Douglas, Reanna
Minnix, Shawn
Gasper, Jamie
Ross, Crystal
Umbras, Courtney
Romanchik, Kevin
Field, Jillian
Lapanowski, Mallory
Meade, Amanda
Nacy, David
St. Germain, Steve
Benjamin, Amanda
Description
---
Face Hooked ; The Mix ; Scene ; Sports ; THIS WEEK ; STAFF EDITORIAL Storm leads to gridlock; blame ; BLUNDERGRADS ; CORRECTIONS CORNER ; It's not a parking problem; it's a walking problem ; Letter to the Editor ; Did they really just say that?: Oakland comes together through a set of viral Facebook groups ; RUSSI WATCH: Keeping track of promises and holding him accountable ; SPOTLIGHT ON SLAG STUDENT ORGS ; Carrying out a legacy: Three students to become 'Keepers of the Dream' ; Speed dating hits a bump ; POLICE FILES ; Portugal. The Man Interview with Zach Garothers music spotlight ; Special effects send message ; Review of top-grossing film Avatar MOVIE REVIEW ; Monologues come to OU ; Students conduct award-winning research ; Automakers on the rise ; City councils ban marijuana shops ; Local news briefs: concept cars; homicide; Olympic Committee names local doc as medical chief for games ; State sees net job growth ; A comeback with a purpose ; Newest club sport taking shape ; Stating a case for a local legend ; SCORES FROM THE ROAD ; Prof challenges same-sex ban ; N-W BRIEFS ; Casualties expected after quake in Haiti ; It's the end of the world as we know it: and it's time to panic ; and I feel fine
Date
---
2010-01-13
Subject
---
Social media
Parking
Keeper of the Dream awards
Research
Breast cancer
Marijuana
Martial arts
Rights
---
Users assume all responsibility for questions of copyright, invasion of privacy, and rights of publicity that may arise in using reproductions from the library's collections.
Collections
---