The Oakland Post 1989-10-02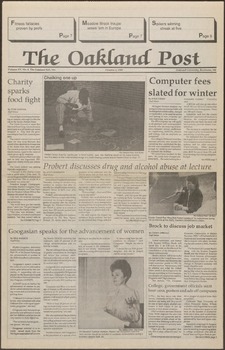 Author
---
Contributor
---
Zito, Carol
O'Brien, Margaret
Michael, Michelle
Moraniec, Marc
Burke, Erin
Villarosa-Bolton, Lorelei
Simmons, Donna
Stock, Karen
Sears, Tammie
Chiappetta, Nick
Vieira-Cosner, Carolyn
Barsh, Bill
Basham, Matthew
Boone, Kelly
DeBrincat, Gina
Green, Kyle
Hogg, David
Johnson, Heidi
Koch, Kathryn
Kostusyk, Theresa
Pelletier, P.J.
Pomaville, Kathy
Schwark, Candi
Sneddon, Andy
Taylor, Lisa
Surowiec, James
Description
---
Charity sparks food fight ; Probert discusses drug and alcohol abuse at lecture ; Brock to discuss job market ; Googasian speaks for the advancement of women ; College; government officials want beer cans; posters and ads off campuses ; Chalking one up ; Computer fees slated for winter ; Dorm Notes Van Wagoner holds euchre contest ; Hill experiences meltdown ; News Briefs Money stolen from Lepley Sports Center ; Stolen cars returned ; Tires slashed in vengeful attack ; Car stereo stolen ; Corrections ; Apple a day ; Computer fee: another link in the chain of rising education costs ; Harassment policy ineffective without knowledge or trust ; We shouldn't be so quick to judge athletes' alcohol troubles ; Letters to the Editor Harassment policy already exists for OU ; Parking tickets more infuriating given lack of parking spaces ; Paper should focus on OU's soccer team ; Victims of Hugo need help from all who can spare it ; TV echos past ; Troupe dazzles troops in Europe ; Fitness fads prove fake ; 'Black Rain' soaked with talent; action ; John's latest is no sleeper ; Wellness is key to happiness ; Black Rain (R) ; Steroids still a problem ; Second half of soccer helps Pioneers beat U.of D. ; Netters getting stuffed ; Intramural Heisman? ; Harriers hurry to third at Monarch ; A pair or birds snatch first place away from golf team at tournament ; Fore! ; Volleyballers show no mercy on latest victims ; MONDAY NIGHT PICKS
Date
---
1989-10-02
Subject
---
Probert, Robert
Detroit Red Wings
Drugs
Computer usage fee
Charity
Brock, William Emerson, 1930-2021
Googasian, Phyllis Law
American Council on Education national identification program
Meadow Brook Estate ensemble
Men's golf
Rights
---
Users assume all responsibility for questions of copyright, invasion of privacy, and rights of publicity that may arise in using reproductions from the library's collections.
Collections
---