The Oakland Post 2008-12-03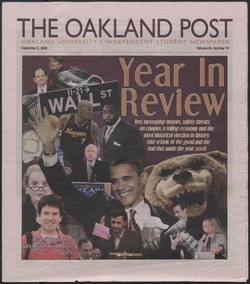 Author
---
Contributor
---
Wojcik, Lindsey
Degel, Nick
Alexander, Dustin
Bartman, Stacie
Garner, Sean
Gully, Paul
Meade, Amanda
Purcell, Jared
Rath, Tim
Jacob, Katie
Miller, Colleen
McCarty, Rory
Murphy, Tom, Jr.
Rahman, Masudur
Ament, Lina
Quandt, Kathleen
Sanders, David
Smiley, Wendell
Gardner, John
Lang, Sarah
Field, Jillian
St. Germain, Steve
Lapanowski, Mallory
Brown, Tom
Description
---
Year in Review ; THIS WEEK ; STAFF EDITORIAL Black Friday behavior was appalling; deadly ; Post employees sound off on the Big Three bailout ; Student files lawsuit: Micah Fialka-Feldman launches civil action for equal treatment ; New procedure creates longer waits: Changes made in how software gets approved without notifying faculty or students ; POLICE FILES ; STUD makes strides for students with disabilities ; Student artists show of senior work ; A 'Gus' gets his 'Wings': Family; friends and Red Wings honor life of a Berkley youth in memorial game ; Help with hair ; Debunking the Obama gun crisis: Should gun owners be worried? ; What was the most memorable event of this year? ; What do you hope to accomplish in the coming year? ; Looking for an open door: A student and her family deal with continued hardships and poverty ; Getting to know you: A series telling the stories of those who make OU unique ; Signing Day ; Golden Grizzlies Women's basketball Inks four new recruits ; Harris appointed at OU ; Turner brings speed to Grizzlies ; Versatile Watterworth brings post size ; Energetic Hamlet brings excitement ; Golden Grizzlies Game of the Week: WOMEN'S BASKETBALL Grizzlies stay in the game; beat Bonnies ; Giving thanks for no football ; Underground concert venue opens in Rochester ; Good Times ; QUICK HITS REVIEWS IN 30 SECONDS ; Media memories ; The Post staff gives its two cents on 2008's entertainment ; Cost-cutting journalism: filling in the ; Big Three execs vie for bailout money ; NEWS BRIEFS ; Venice underwater ; Report: U.S. can expect biological attack in next 5 years ; Police: Mumbai gunmen came by sea from Pakistan
Date
---
2008-12-03
Subject
---
Economic crisis
Fialka-Feldman, Micah
Lawsuits
Disabled students
Oakland University Art Gallery
Pintzuk, Edward, 1914-
Rights
---
Users assume all responsibility for questions of copyright, invasion of privacy, and rights of publicity that may arise in using reproductions from the library's collections.
Collections
---