The Oakland Post 2008-10-29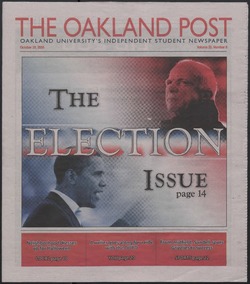 Author
---
Contributor
---
Wojcik, Lindsey
Degel, Nick
Alexander, Dustin
Bartman, Stacie
Garner, Sean
Gully, Paul
Meade, Amanda
Purcell, Jared
Rath, Tim
Jacob, Katie
Miller, Colleen
McCarty, Rory
Murphy, Tom, Jr.
Rahman, Masudur
Latshaw, Shelly
Ament, Lina
Quandt, Kathleen
Sanders, David
Smiley, Wendell
Gardner, John
Lang, Sarah
Field, Jillian
St. Germain, Steve
Lapanowski, Mallory
Brown, Tom
Description
---
The Election Issue ; THIS WEEK ; STAFF EDITORIAL Presidential race still on for Michigan's voters ; CORRECTIONS CORNER ; One editor shares why he isn't voting this year ; STUDENT LIFE WEEKLY ; HOT TOPIC Midsemester crisis? ; Letter to the Oakland Post ; Professors share research: Collaborative work on elections sheds light on presidential politics ; Political clubs promote election ; Students to delegate at Model UN ; Having faith the electoral process: Local Christian organizations sponsor Q&A on candidates' views on the issues ; Meadow Brook box office broken into; no items stolen ; Homes for the holiday: Local homes transform into havens for Halloween hauntings ; Kwame confined ; Ballot buster issues '08: Students talk about issues effecting their vote and the role of race ; Where the other candidates stand ; Know your props on election day ; Ins and outs of voting ; Do youth still plan to rock the vote? ; Through the lens: First time voters share their thoughts on 2008 Election ; A day in the life of - An Oakland police officer ; Out with a big bang ; Golden Grizzlies Game of the Week ; MEN'S AND WOMEN'S SWIMMING OU dominates Quadrangular ; Obama or McCain: The next 'American Idol'? ; QUICK HITS: REVIEWS IN 30 SECONDS T.I. Paper Trail: Album Review ; "Saw V": Movie Review ; Local Detroiters wrap up filming: Michigan's own 'Darling Nikki' makes its debut in Motor City ; Debating the merits of young voters: in action or inaction? ; White House to banks: lend now ; N W BRIEFS ; Three dog Halloween night ; British Prime Minister calls for bigger IMF bailout ; Assassination plot on Barack Obama and others foiled
Date
---
2008-10-29
Subject
---
Dulio, David A.
Trumbore, Peter
Politics
Presidential elections
Meadow Brook Theatre
Crime
Oakland University Police Department
Rights
---
Users assume all responsibility for questions of copyright, invasion of privacy, and rights of publicity that may arise in using reproductions from the library's collections.
Collections
---