The Oakland Post 2008-10-15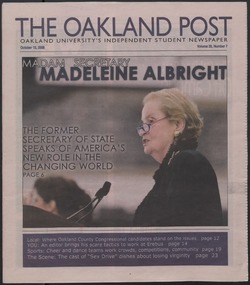 Author
---
Contributor
---
Wojcik, Lindsey
Degel, Nick
Alexander, Dustin
Bartman, Stacie
Garner, Sean
Gully, Paul
Meade, Amanda
Purcell, Jared
Rath, Tim
Jacob, Katie
Miller, Colleen
McCarty, Rory
Murphy, Tom, Jr.
Rahman, Masudur
Latshaw, Shelly
Ament, Lina
Quandt, Kathleen
Sanders, David
Smiley, Wendell
Gardner, John
Lang, Sarah
Field, Jillian
St. Germain, Steve
Lapanowski, Mallory
Brown, Tom
Description
---
Madam Secretary: The Former Secretary of State Speaks of America's New Role in the Changing World ; THIS WEEK 10.15.08 ; STAFF EDITORIAL Making sense of a senseless number ; OUSC to confront Chartwells over prices ; STUDENT LIFE WEEKLY HOT TOPIC: People stopped being nice and started being real: Tips on solving roommate conflict ; Albright speaks at OU: Former secretary of state discusses experiences; foreign affairs ; LGBT celebrates Coming Out Week ; Pugh talks about sexuality ; OU to host Romantic conference ; Poetry; murder come to OU ; POLICE FILES ; MTD's tale of AIDS struggle: 'Falsettos' depicts plight of homosexuals in early 80s ; OUSC lobbies for disc golf course on campus ; Former OU student pleads guilty: 19 year old faces a 3-20 year sentence for her role in overdose death ; NEWS BRIEFS ; A candid look at the congressional candidates: The views and opinions of Oakland County candidates on hot button topics ; Detroit mayoral candidate frenzy ; A day in the life of - an Erebus actor ; New 'Day in the Life' series: We don't just write the story; we live the story ; Getting to know yOU A series telling the stories of those who make OU unique: OU student lands an opportunity of a lifetime and lives his dream ; What was your favorite childhood television show? ; What was the first movie you can remember seeing? ; What was your most treasured childhood toy? ; Stealing the show ; Complete 'Madnezz' ; Motzer dies at age 75 ; Why no guys? ; POST GAME ; GRIZZ OF THE WEEK ; Golden Grizzlies Game of the Week ; WOMEN'S SOCCER IUPUI deals Grizzlies bad hand ; 'Sex Drive' crew tells all ; Staff Picks: Slow but steady progress: 'Silent Hill: Homecoming' ; Chains we can believe in ; It's not just a fantasy - get the play-by-play ; Government move unclogs more credit ; N W BRIEFS ; Wildfires rage near Los Angeles ; Syria establishes formal diplomatic ties with Lebanon ; Florida mother indicted in murder of her daughter
Date
---
2008-10-15
Subject
---
Oakland University. Student Congress
Food service
Albright, Madeleine Korbel
LGBTQ
Pugh, Charles, 1971-
Meadow Brook Theatre
Rights
---
Users assume all responsibility for questions of copyright, invasion of privacy, and rights of publicity that may arise in using reproductions from the library's collections.
Collections
---