The Oakland Post 2007-09-26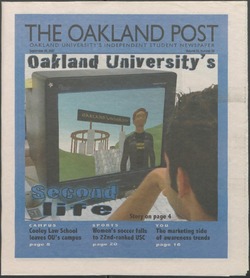 Author
---
Contributor
---
Kozlowski, Kelly
Gully, Paul
Alexander, Dustin
Perales, Liz
Franz, Samantha
Kandel, Sara
Cameron, Tyler
Cherup, Alex
Lyons, Wendy
Wojcik, Lindsey
Filiatrault, Celeste
Tate, Rob
Dunsmore, Jesse
Graski, C.M.
Ochtinsky, Brittany
Degel, Nick
Roberts, Adam
Ross, Vanessa
Tallant, Dan
Wawrzyniak, Tracy
Nelson, Crystal
Sexton, Owen
Foote, Shenise
Holm, Heather
Vitale, Maria
Description
---
Second Life' a first for OU ; OU now owns 'real' estate in digital world that offers opportunities for research; education and social interaction ; STAFF EDITORIAL Free speech: What does it take to get people talking? ; Good government requires an educated and involved citizenry ; The Internet: a soon-to-be endangered resource? ; Cooley to depart from OU: Law school buys expanded site for Auburn Hills relocation ; POLICE FILES ; CPR training may set a world record at OU ; Construction to begin on collapsed culvert: Project to cost OU $595,000 ; ARC to aid in career choices: Workshops designed for undecided students ; Computer to boost OU chemistry ; Recycling is mission of Environmental Coalition ; State implements new program aimed at young drivers and parents ; California college offers class through YouTube ; Will OU be next to utilize this new generation of online learning? ; The fight is finished: Outlets across the nation hold midnight release of "Halo 3" ; Martin Short shines despite minor technical difficulties ; What is your favorite memory of this summer? ; Things we love to hate about summer in Michigan ; What are your fall plans? ; How aware are you?: Awareness-raising products can be a profitable marketing strategy ; Brown bag your lunch to save money ; Caught reading The Post ; A double dose of fall previews: Swimming and diving looks to add ninth conference title under their belt ; Club hockey roaring to go once more ; You win one; you lose one ; Oakland gets victory against WMU; loses Daniel to red card ; Women's soccer drops third straight game ; Born to run ; Spiked!: Grizzlies drop two matches against new Summit League teams ; Laughing Out Loud ; The Beastie Boys double up in Detroit ; A graphic look at classic tales ; Playing the Stereotype: Carlos Mencia takes on the big screen ; Sound Bites: Strike threatens GM's new product momentum ; Government warns monks leading 100000 in protest ; Nation World News Briefs ; Vietnam's nouveaux riches indulge a taste for luxury ; Concentrate on Hillary Clinton's actions; not her womanness ; Lay off meat and vegetarians
Date
---
2007-09-26
Subject
---
Second Life (Game)
Cooley Law School
Road construction
Oakland University. College of Arts and Sciences. Department of Chemistry
Rights
---
Users assume all responsibility for questions of copyright, invasion of privacy, and rights of publicity that may arise in using reproductions from the library's collections.
Collections
---