The Oakland Post 2007-02-07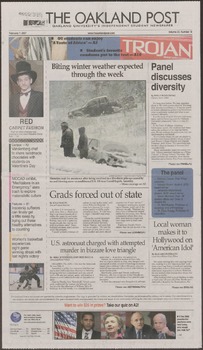 Description
---
Biting winter weather expected through the week ; Grads forced out of state ; Panel discusses diversity ; Local woman makes it to Hollywood on 'American Idol' ; U.S. astronaut charged with attempted murder in bizzare love triangle ; Arctic weather hits Michigan; Midwest ; Giuliani moves closer to full-fledged presidential run ; TODAY IN HISTORY ; Gimmie chocolates ; Jeff's box of chocolates ; WHAT'S ON YOUR MIND? ; News In Brief: Da Vinci discussed ; POLICE FILES ; African culture spices up OU cuisine: 'Taste of Africa Gala' serves up traditional menu ; Fireside tea party brings culture to OU ; Akwaaba brings the rhythm ; ousc ; Tips to beat your test-taking blues ; EDITORIAL Sad when we put blinders on ourselves ; LETTER TO THE EDITOR ; Working hard to make OU a S.A.F.E. place ; Super Bowl ads in desperate need of more candor and fewer chuckles ; "Vista" looks a bit foggy through new Windows OS ; Meadowbrook Ball ; Granholm could sell tax hikes to some; polls show ; Mom charged in killing kids ; Local woman makes it to Hollywood ; 'I'm going to be sick;' U.S. pilot says after friendly fire incident ; Nation in Brief: Appeals court sends Wal-Mart women bias case to trial ; World News: Nearly 60 nations - but not U.S. - sign treaty to ban forced disappearances ; Arctic cold holds nation in a total freeze ; Dear self; be mine? ; Sometimes; it's okay to be alone ; Something you should see: It's bunch of Junk. Seriously. ; Make this your move: Fitness tips from Rec Center Pros ; Sweet dreams; insomniacs: Healthy alternatives to counting sheep ; ENVIRONMENT an recycling in a rut ; Tell your sandwich you love her ; Not just puppy love ; QUOTE Of THE WEEK ; OU Makes Waves in National Rankings ; Sweep! Sweep!: Kangas nails six 3-pointers in win aver Jags ; OU downed by Panthers: Grizzlies go 0-4 in Davenport series ; In Case You Missed It ; SUPER BOWL RATINGS SET RECORD ; Crazy Eights ; Upcoming Schedule ; COLUMN Hey you! Why haven't you been to an OU game yet? ; Head coach goes against the norm ; Did You Know?
Date
---
2007-02-07
Subject
---
International students
Oakland University. Student Congress
LGBTQ
Meadow Brook Ball
Sleep
Recycling
Rights
---
Users assume all responsibility for questions of copyright, invasion of privacy, and rights of publicity that may arise in using reproductions from the library's collections.
Collections
---