The Oakland Post 2005-03-23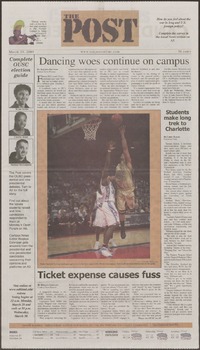 Author
---
Contributor
---
Baker, Libby
Eshmawi, Roquaya
Pemberton, Dave
Ciullo, Dante
Walker, Aaron
Brunner, Allison
Gorecki, Elizabeth
Lovisa, Gina
Kosztowny, Sheila
Utz, Dana
Phillips, Dave
Stevens, Brendan J.
Droz, Laurel
Roman, Heidi
Bahri, Loreen
Cotta, Nick
Swidwinski, Julie
Marzoug, Vera
Ujla, Krupa
Stack, Anthony
Mallard, Erin
Kruger, Andrea
Buchman, Karl
Syeda, Zenna
Beattie, Nicole
Description
---
Complete OUSC election guide ; Dancing woes continue on campus ; Students make long trek to Charlotte ; Ticket expense causes fuss ; CANDIDATES DEBATE: Presidential candidates ; Vice presidential candidates ; DIVERSE STUDENTS; one student body ; Who will be your next leader? ; $12M Palace plan approved ; How do you feel about the progress in Iraq? ; Two years after the invasion ; Iraq war: Two years of violence ; Global Glance: Appeal in Schiavo case denied ; Global goof: Sole survivor branded with satanic scar? ; Students question Congress hopefuls ; Current events are the topic of discussion ; Oakland University's Student Affairs Weekly column: updating yOU every week! ; EDITORIAL Let your voice be heard ; GUEST COLUMN New credit union contract has benefits for all ; LETTERS TO THE EDITOR: Students speak out in support of McGuinness - Caver
Date
---
2005-03-23
Subject
---
Oakland University. Student Congress
Elections
Tibetan monks
Work-study jobs
Religions
Rights
---
Users assume all responsibility for questions of copyright, invasion of privacy, and rights of publicity that may arise in using reproductions from the library's collections.
Collections
---