The Oakland Post 2004-10-06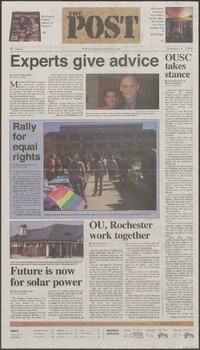 Author
---
Contributor
---
Stevens, Brendan J.
Baker, Libby
Eshmawi, Roquaya
Gorecki, Elizabeth
Estes, Tracy
Weigold, Sara
Pemberton, Dave
Utz, Dana
Perov, Virginie
Simmons, Blythe
Walker, Aaron
Lovisa, Gina
Williams, Michael
Balas, Stacey
Beven, Anthony Martinez
Czajkowski, Krystle
Wojciechowski, Julie
Phillips, Dave
Stack, Anthony
Roman, Heidi
Description
---
Experts give advice ; Rally for equal rights ; OUSC takes stance ; Future is now for solar power ; OU; Rochester work together ; WEEKEND OUTLOOK ; Hispanic month ends: Defining Hispanic ; Hispanic Traditions ; A-E-I-O-U: avoid conflict ; Hypnosis: gain control ; In Short: "History Comes Alive" ; Police Beat ; Students impress employers ; Global Glance ; Group focuses on help; hope ; Frat fire safety examined ; Tips to keep you safe ; Cities say no to signs ; Dome may be home to team again ; POINT - COUNTER POINT OUSC Resolution 05-05: Proper or problematic? ; EDITORIAL OU celebrates equality with Coming Out Week ; LETTERS TO THE EDITOR ; Tattoo tips: Tattoos are in style; but can become a burden. Here is some food for thought before making your big decision ; What you need to know before getting a tattoo ; Daily heroes light up the screen: OPinion ; Interpol's new album offers many moods ; With its second album "Antics"; Interpol stirs toward more upbeat rhythms ; Great voices net crowds ; Play fights intolerance ; Crossword ; PAUL ; THE LOW DOWN ; Club starts season 3-0 ; Volleyball hits the road: Women drop pair to Mid-con foes ; OU soccer shuts out UT Rockets ; Flag football is gaining popularity ; Winning ways continue ; Everyone's playing Fantasy Football ; Pistons talking repeat this year
Date
---
2004-10-06
Subject
---
Women
Equality
Hispanic culture
Hypnosis
LGBTQ
Rights
---
Users assume all responsibility for questions of copyright, invasion of privacy, and rights of publicity that may arise in using reproductions from the library's collections.
Collections
---