The Oakland Post 2003-10-15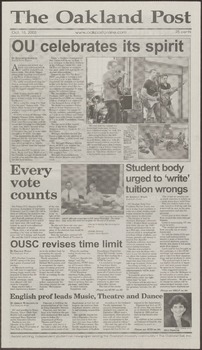 Description
---
OU celebrates its spirit ; Every vote counts ; Student body urged to 'write' tuition wrongs ; OUSC revises time limit ; English prof leads Music; Theatre and Dance ; King Chavez mentors give back ; Seeking common ground ; Raising Awareness OUPD strives to inform ; Student's art gets exposed ; Students can make a difference in October ; Police Beat ; Jury duty pay rate up ; GLOBAL ; Rubber ducks race home ; License change for minors ; Opinions differ on new state quarter ; Letters to the Editor ; Editor's View: Stand up as a student and a voter ; Editorial at a glance ; Point - Counterpoint: Is the quarter a good representation of Michigan? To see a picture of the quarter; please see page A5 ; Featured columnist Education brings responsibility to pay back society; student offers suggestions as to how ; Swimmers on block ; Tigers caught in a curse ; Fall over for golfers ; Practice bubble deflated ; Streak still alive ; Grizzlies maul lllini foes ; OU and beyond: Mudbowl ; Struggle worsens ; Women swept during travels ; Grizzly Calendar ; Dickensian exhibit portrays spiritualism in photography ; 'Kill Bill' offers sword fighting fun ; Students reveal the scoop for dating ; Scarecrow invasion ; Students complain of commerical overkill ; 'Screech' sells out OU performance ; Student Profile Jessica Parks ; Crossword ; THE LOW DOWN ; OU Says: How do you celebrate Sweetest Day?
Date
---
2003-10-15
Subject
---
Weekend of Champions
Union contracts
Mentoring
Volunteerism
Athletics facilities
Oakland University Art Gallery
Rights
---
Users assume all responsibility for questions of copyright, invasion of privacy, and rights of publicity that may arise in using reproductions from the library's collections.
Collections
---