The Oakland Post 1988-03-21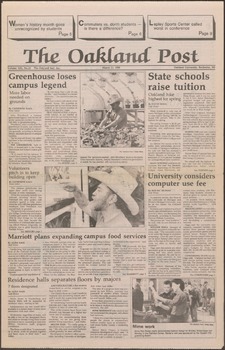 Author
---
Contributor
---
Byrne, Jennifer
Cook, Tom
Doneth, Carol
Fielding, Beth
Gleeson, Julie
Hogg, David
Maslowsky, Karyn
McDowell, Mark
McMurray, Bob
Moraniec, Marc
Nass, Alisa
Olsen, Natalie
Palazzolo, Sue
Ross, Doc
Sawicki, Brent
Schaffer, Dawn
Sneddon, Andy
Spezia, Mark
Stokes, Susan
Miller, Montse
Paris, Paul
Shuell, Jamie
Stephenson, Art
Description
---
Greenhouse loses campus legend ; Volunteers pitch in to keep; building open ; Marriott plans expanding campus food services ; Residence halls separates floors by majors ; State schools raise tuition ; University considers computer use fee ; Mime work ; NEWS BRIEFS Enrollment decreases ; Phone machine; keyboard stolen ; Phone machine keyboard stolen ; Presidential candidate lectures ; Faculty promoted ; Corrections ; TUITION RATES ; U.S. troops don't belong in Honduras ; Lepley needs to enlarge improve ; Death of loved one is frightening ; Letters to the Editor ; Music major feels isolated in Varner ; BLOOM COUNTY ; What's Happening ; Varner Production shows Wild West in new light ; Women's History Month lacks student recognition ; Campus Crusade for Christ elicits mixed reactions ; 'Masquerade' suspense scores with audience ; Differences between dorm students commuters remain disputed ; Mighty Mouse becomes national campus cult ; Who took 2nd place? ; Baseball team gets overhaul with new coach ; Tankers place 2nd at nationals VanderMey Woods set records ; Lady tankers cruise to 6th place finish as Schermer qualifies for Olympic trials ; Golf team to come out of hibernation new coach Busam stresses "short game" ; Men's tennis team hopes to perform better than last year ; The links beckon ; People going nuts ; Apes banging away ; Unnatural acts ; Tickets to Hell ; Lepley called worst sports center in conference.
Date
---
1988-03-21
Subject
---
Wendland, John
Tuition
Residence halls
Women's history month
Religions
Johnson, Dirke
Commuters vs. on-campus students
Mighty Mouse
Men's baseball
Chapoton, Paul
Lepley Sports Center
Dormitories
Student housing
Rights
---
Users assume all responsibility for questions of copyright, invasion of privacy, and rights of publicity that may arise in using reproductions from the library's collections.
Collections
---