The Oakland Sail 1979-02-22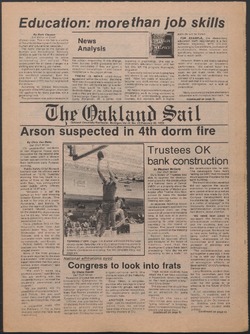 Author
---
Contributor
---
Clausen, Mark
Spears, John F.
O'Grady, Robin
Alderman, Stuart
Mitchell, Carla
Dunstan, Jay
DeGeorge, Gail
Briggs-Bunting, Jane
Bakshi, Sheba
Chachich, Paula
Chappell, Karin
D'Haene, Elise
Fodale, Vicki
Fortier, Daryl C.
Gaesaman, Betsy
Kassel, Kevin
Lenart, Susan
Marshall, David
Marzahi, Michelle
McGerty, Maureen
Moorhead, Ree
Newman, Kent
Quackenbush, Joseph
Robinson, Dave
Schelske, Don
Schreiber, Betsy
Susalla, Doug
Van Meter, Chris
Ouellette, Chris
Description
---
Education: more than job skills: News Analysis ; Arson suspected in 4th dorm fire ; Ferris St. routs OU; season finale Saturday ; National affiliations eyed Congress to look into frats ; Trustees OK bank construction ; Guest Commentary Carter condemned for inept action ; The Marshall Arts ; Letters Grandiose language isn't communication ; Cartoonist? ; Ideas requested There's OC money to spend ; Students Speak Out ; ROCK'S KORNER: With a little bit of spirit ; Kramer: A proven star ; Monte Clark reaffirms Lions training at OU ; Women edge Bulldogs in abbreviated contest ; Students ask: "But is it art?" Paintings splash color on campus
Date
---
1979-02-22
Subject
---
Oakland University. School of Education and Human Services
Dorm fires
Fraternities
Sororities
Oakland Center
Art
Rights
---
Users assume all responsibility for questions of copyright, invasion of privacy, and rights of publicity that may arise in using reproductions from the library's collections.
Collections
---