The Oakland Sail 1979-02-12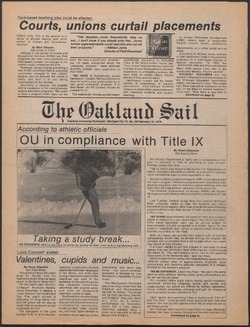 Author
---
Contributor
---
Clausen, Mark
Spears, John F.
O'Grady, Robin
Alderman, Stuart
Mitchell, Carla
Dunstan, Jay
DeGeorge, Gail
Briggs-Bunting, Jane
Bakshi, Sheba
Chachich, Paula
Chappell, Karin
D'Haene, Elise
Fodale, Vicki
Fortier, Daryl C.
Gaesaman, Betsy
Kassel, Kevin
Lenart, Susan
Marshall, David
Marzahi, Michelle
McGerty, Maureen
Moorhead, Ree
Newman, Kent
Quackenbush, Joseph
Robinson, Dave
Schelske, Don
Schreiber, Betsy
Susalla, Doug
Van Meter, Chris
Ouellette, Chris
Description
---
Field-based teaching jobs could be affected Courts; unions curtail placements ; According to athletic officials OU in compliance with Title IX ; Taking a study break ; 'Love Concert' slated Valentines; cupids and music ; Sail Editorial Rash judgments hinder OU sports ; The Marshall Arts ; Budget major roadblock WOUX requests FM band ; Kramer leads with 20 points Hillsdale snaps OU win string ; Wrestlers finish second at GLIAC championships ; Record drops to 3-4 Pioneers lose to OSU ; Spartans trounce women swimmers ; Cagers drop another ; MOVIN OUT: Concerts ; Art ; Misc ; Theatre ; Egorov delights audience
Date
---
1979-02-12
Subject
---
Oakland University. School of Education and Human Services
Title IX
Athletics
Oakland University. Student Organizations. WXOU
Rights
---
Users assume all responsibility for questions of copyright, invasion of privacy, and rights of publicity that may arise in using reproductions from the library's collections.
Collections
---