The Oakland Sail 1979-02-01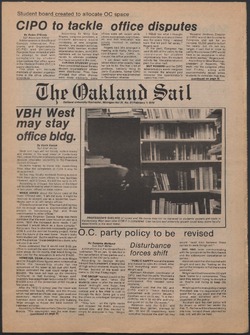 Author
---
Contributor
---
Clausen, Mark
Spears, John F.
O'Grady, Robin
Alderman, Stuart
Mitchell, Carla
Dunstan, Jay
DeGeorge, Gail
Briggs-Bunting, Jane
Trumper, Marilyn S.
Bakshi, Sheba
D'Haene, Elise
Fortier, Daryl C.
Lenart, Susan
Marshall, David
Moorhead, Ree
McGerty, Maureen
Quackenbush, Joseph
Robinson, Dave
Barnard, Timothy
Hatfield, Daniel
Van Meter, Chris
Ouellette, Chris
Redfield, Robert
Stein, David
Truman, Mark
Description
---
Student board created to allocate OC space CIPO to tackle office disputes ; PROFESSOR'S SHELVES ; VBH West may stay office bldg. ; O.C. party policy to be revised: Disturbance forces shift ; SAB grants short ; The Marshall Arts ; Cage coach fired ; Students Speak Out: How do you feel about Patty Hearst being pardoned by President Carter? ; Career begins as R.A. New Housing director ; Choirs learn new styles ; collegiate crossword: Sponsored by The Bookcenter and CIPO ; Ghosts lurk behind the scenes for Blithe Spirit ; 'Pioneer Sportlite' Hein 'psyches up' to win ; Cagers slip by Northwood 74-73 ; ROCK'S KORNER: Believe in yourself ; G.D.I. opens IM basketball in high style
Date
---
1979-02-01
Subject
---
Vandenberg Hall
Oakland Center party policy
Student Activities Board
Meadow Brook Theatre
Rights
---
Users assume all responsibility for questions of copyright, invasion of privacy, and rights of publicity that may arise in using reproductions from the library's collections.
Collections
---