The Oakland Sail 1978-10-30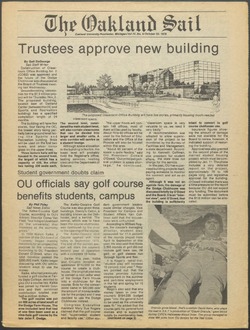 Author
---
Contributor
---
Clausen, Mark
Foley, Philip
Morrison, Pat
Alderman, Stuart
Spears, John
Ross, Dave
O'Grady, Robin
Briggs-Bunting, Jane
Bakshi, Sheba
Burkli-Bery, Christine A.
Czeizler, Shelly F.
Derrick, Scott
D'Haene, Elise
DeGeorge, Gail
Dunstan, Jay
Fortier, Daryl C.
Ginsell, Suzie
Henderson, Dick
Katz, Stephen
Lenart, Susan
Marshall, David
Moorhead, Ree
McGerty, Maureen
Quackenbush, Joseph
Runkle, Dana
Robinson, Dave
Sugar, Eric
Tupper, Darcy
Trumper, Marilyn S.
Wilhelm, Kurt
Description
---
Trustees approve new building ; Student government doubts claim OU officials say golf course benefits students; campus ; Proposed tax-cut debate draws few ; Cost of damage still unknown ; Candidate supports Prop. D ; Tomboulian runs campaign; home ; FEEDBACK: Blazing the Congressional budget trail ; The Marshall Arts ; Off-Broadway musical presented in Varner ; Students Speak Out: Who are you voting for: Milliken or Fitzgerald? Why? ; Meadow Brook Hall All decked out with boughs of holly early ; Low AHC funds slowing involvement ; Sail Review: An Ungraceful Wedding ; First Pioneer Classic a success Booters finish second in tourney ; Harriers lose finale to U-D ; Pro Sports Calendar of Coming events ; Sports ; Tennis team winds up at 15-2 ; IM football-basketball scores ; MOVIN OUT: A guide to off-campus events ; Trustee tries to sell tax limit
Date
---
1978-10-30
Subject
---
O'Dowd Hall
Katke-Cousins Golf Course
Dodge clubhouse
Meadow Brook Hall
Headlee, Richard H., 1930-2004
Rights
---
Users assume all responsibility for questions of copyright, invasion of privacy, and rights of publicity that may arise in using reproductions from the library's collections.
Collections
---