The Oakland Sail 1978-10-16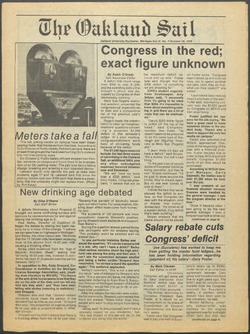 Author
---
Contributor
---
Clausen, Mark
Foley, Philip
Morrison, Pat
Alderman, Stuart
Spears, John
Ross, Dave
O'Grady, Robin
Briggs-Bunting, Jane
Burkli-Bery, Christine A.
Cocoli, Mona
Czeizler, Shelly F.
Caligiuri, Mark
Derrick, Scott
DeFrancesco, Brian
D'Haene, Elise
DeGeorge, Gail
Dunstan, Jay
Fortier, Daryl C.
Gauthier, Mark
Ginsell, Suzie
Henderson, Dick
Katz, Stephen
Lenart, Susan
Marshall, David
Moorhead, Ree
McGerty, Maureen
Nietubyc, Renee
Pavia, Carolyn A.
Plaque, Michael J.
Quackenbush, Joseph
Runkle, Dana
Robinson, Dave
Sugar, Eric
Taylor, Janis Renee
Tupper, Darcy
Trumper, Marilyn S.
Williams, Brian A.
Wilhelm, Kurt
Description
---
Congress in the red; exact figure unknown ; Meters take a fall ; New drinking age debated ; Salary rebate cuts Congress' deficit ; 'Squid' aids heart research OU lab studies magnetics ; Local youngsters use OU for playground ; 'I get my ideas while walking' journalist; poet tells audience ; Fee referenda slated ; The Marshall Arts ; Letters: Not one; but three electricians ; No parking available ; Faces In The Crowd ; Furniture on the move ; collegiate crossword: Sponsored by The Bookcenter and CIPO ; Sail Review: Meadow Brook season begins with'The Devil's Disciple' ; Students Speak Out: Are you registered to vote In this election? Why? If so; will you vote? Why? ; Registered out of town? Absentee voting outlined ; Meadow Brook Art Gallery opens with a 'Return to Realism': The paintings look like real ; New Doctors ; Face Wayne State in showdown Pioneer netters a smashing success ; Pro sports briefs ; Pioneer spikers boast unbeaten record 6-0 ; Lakers edge Fitz 20-14 ; Freshman Martin Little ; Swarts paces thinclads ; Rose announces cage tryouts ; MOVIN' OUT: A guide to off-campus events ; Nightlife ; Film ; Theater ; Misc
Date
---
1978-10-16
Subject
---
Parking
Oakland University. Student Congress
Alcohol policy
Kettering Magnetics Laboratory
Oakland University Art Gallery
Rights
---
Users assume all responsibility for questions of copyright, invasion of privacy, and rights of publicity that may arise in using reproductions from the library's collections.
Collections
---