The Oakland Sail 1986-01-27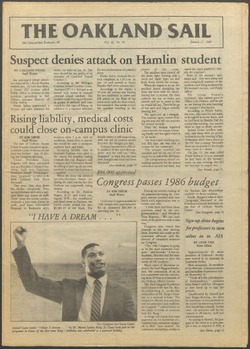 Author
---
Contributor
---
Lucius, Jill
Teel, Lynn
Hooper, Anne
Heller, Bruce
LeMieux, Sharon
Kaveloski, Kim
Diehr, Kim
Calabrese, Carla
Biondi, Paul
Meyers, Mark
Briggs-Bunting, Jane
Jones, Kenneth
Auchter, Hans Peter
Barone, Patrick
Beadle, Cathy
Bernard, Dale
Brown, Carolyn
Chiappetta, Nick
Childs, Chip
Drake, Bobbie
Dyke, Tim
Jones, K. J.
Jordan, Mike
Kahler, Julie
Kaza, Catherine
Kocis, Maryanne
Marine, Tim
Nass, Alisa
Pokoj, Renee
Raible, Robert
Rosenberg, Flori
Schlaud, Brenda
Serra, Grace
Villet, Steven
Vitale, Cataleen
Wendland, Wendy
Zrimec, Vicki
Andreski, Jeanine
Butzier, Pam
Easterly, Liz
Klope, Warren
Loznak, Robin
Molnar, Gary
Smith, Kathy
Ursu, Mike
Vetter, Tammy
Description
---
Suspect denies attack on Hamlin student ; Rising liability; medical costs could close on-campus clinic ; $86,000 approved Congress passes 1986 budget ; "I HAVE A DREAM" ; Sign-up drive begins for professors to turn selves in to AIA ; A breast cancer cure? New drug tested in biology lab ; Former journalism instructor killed in helicopter crash ; EDITORIAL: New alcohol policy restrictive on rights ; Letters to the Editor: Panel criticism spurs response; Professor satires 'Sail' opinions ; Shrewd editorial was delightful ; Professor defends monitoring group Karasch guilty of AIA's charges ; Gang rape violence linked to fraternity parties; study shows ; Shake; roll and rattle? ; Off-campus housing shortage causes long term problems for OU students ; KING ; University pays homage to King during holiday ; FEATURES: Grades important to some employers but not others ; Honors students clinch Carnival College Bowl ; Popularity grows for Greek groups ; Work supports students; creates many hardships ; Saga meals receive stamp of approval ; SPB movie admission helps pay for expenses ; New weapon to protect women from rape a shocker ; Auditions to be held for local play ; Procrastinators can seek help from new counseling sessions ; Program in Oxford studies offers travel ; Clubs gather at spree to get new members ; Winter can bring health; auto hazards ; SPORTS: Team mired in slump Women fall to G. Valley ; Swimmers register long-distance win ; Lakers drop Pioneers to 3-5 in conference play ; League title slips away from Howze ; 1-2-3 Pull! ; Oakland fencers record pair of wins at meet ; Trivia quiz
Date
---
1986-01-27
Subject
---
Crime
Oakland University. Student Congress
Budgets
Student housing
Martin Luther King Jr. Day observance
Greek letter societies
Food service operations
Rights
---
Users assume all responsibility for questions of copyright, invasion of privacy, and rights of publicity that may arise in using reproductions from the library's collections.
Collections
---