The Oakland Sail 1985-09-30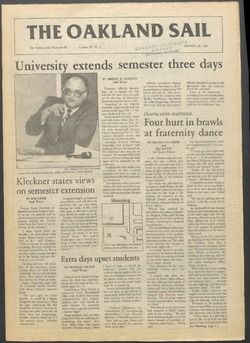 Author
---
Contributor
---
Lucius, Jill
Calabrese, Regina
Heller, Bruce
LeMieux, Sharon
Naqvi, Hasan
Hooper, Anne
Teel, Lynn
Biondi, Paul
Briggs-Bunting, Jane
Bardy, Maria
Barone, Patrick
Beadle, Cathy
Brozowski, Michele
Jones, K. J.
Jones, Scott
Jordan, Mike
Kocis, Maryanne
Regina, Lynne
Rosenberg, Flori
Tecker, Michele
Thomas, M.A.
Adkins, Bud
Andreski, Jeanine
Butzier, Pam
Easterly, Liz
Kaveloski, Kim
King, Barb
Klope, Warren
Loznak, Robin
Meyers, Mark
Molnar, Gary
Newton, Paul
Smith, Kathy
Ursu, Mike
Description
---
Kleckner states views on semester extension ; University extends semester three days ; Shooting ; Extra days upset students ; Shooting victim hospitalized; Four hurt in brawls at fraternity dance ; Campus reacts to Barn Theatre plight ; English professor hurt in hunting accident ; EDITORIAL: University disregards student body needs in semester extension ; Letters to the Editor: McGarry responds to salary report ; Barn Theatre deserves another chance ; Awards available for active students ; FEATURES: CoffeeHouse entertainment now held in OC Abstention ; Music history explored in Walk Thru Rock ; Mystery less than exciting ; Beer Lake beauty ; House council leaders elected to help dorms ; New dean enjoys job ; SPB defines goals plans entertainment ; New fitness center opens in November ; OPEN SPACE ; Career services helps students ; SPORTS: Pioneers move above.500 mark with pair of victories ; Prizes awarded for attendance Wed. ; Golfers down U-D; ready for big meet ; Squad now 15-2 Spikers setting record pace ; Cross country looking ahead ; Football action! ; Soccer club looking for first victory
Date
---
1985-09-30
Subject
---
Kleckner, Keith R., 1936-
Academic calendars
Fraternities
Omega Psi Phi
Oakland Center
Residence halls
Dean of students
Herman, David
Oakland University. Career Services
Rights
---
Users assume all responsibility for questions of copyright, invasion of privacy, and rights of publicity that may arise in using reproductions from the library's collections.
Collections
---