The Oakland Sail 1985-02-18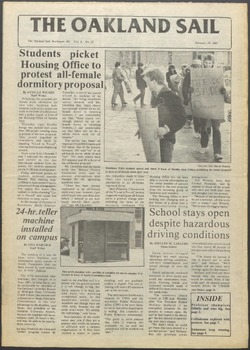 Author
---
Contributor
---
Conte, Joseph
Brudzinski, Steve
Lucius, Jill
LaBaere, Joellen M.
Burda, Bob
LeMieux, Sharon
Davis, Kirk
Calabrese, Regina
Arkwright, Jennifer
Babcock, Lisa
Bardy, Maria
Beadle, Cathy
Betman, Marilyn
Burke, Connie
Calabrese, Regina
Condron, Frank
DeWolf, David
Glovinsky, Renee
Jones, Kenneth
Jones, Scott
Jordan, Mike
Kahler, Julie
Kocis, Maryanne
Rosenberg, Flori
Teel, Lynn
Viola, Cindy
Wilson, Janelle
Freel, Jim
Hoffman, John
Knoska, Emil Robert (Bob)
Manley, Dave
Molnar, Gary
Gillette, Jeff
Description
---
Students picket Housing Office to protest all-female dormitory proposal ; 24-hr. teller machine installed on campus ; School stays open despite hazardous driving conditions ; Prof. places third in Othello contest ; Let's get metaphysical ; HI-FI on the go ; EDITORIAL: opposed All female dorm ; LETTERS: Residence Halls part missed by Nursing Student Report ; Solutions offered for text prices ; SAB decision supports S.I.C. ; Features La Cage dazzles Fisher Theatre ; Disc Jockey shines at WOUX ; Movie descends into cold war espionage ; Coffee House features local talent ; Fashion show highlights ball ; SPORTS: Free throws send Pioneers to victory ; Swimmers stay strong; head to championships ; Fencing club shows foil team with talent ; Skinner supports team on and off court ; Basketball hopes for better times ; Wrestling action ; "Take a break"
Date
---
1985-02-18
Subject
---
Residence halls
Oakland University. Student Organizations. WXOU
Rights
---
Users assume all responsibility for questions of copyright, invasion of privacy, and rights of publicity that may arise in using reproductions from the library's collections.
Collections
---