The Oakland Sail 1984-09-17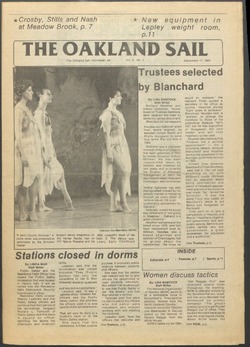 Author
---
Contributor
---
Conte, Joseph
Weathers, Cliff
Brudzinski, Steve
Lucius, Jill
LaBaere, Joellen M.
Burda, Bob
Davis, Kirk
Calabrese, Regina
Arkwright, Jennifer
Babcock, Lisa
Beadle, Cathy
Burden, Russell
Burke, Connie
Delaney, June
DeWolf, David
Ezmerlian, Beth
Guido, Anthony
Hatalsky, Nancy
Kocis, Maryanne
Martin, Marion
Pore, Russell
Rosenberg, Flori
Vandenhemel, Dan
Ashley, Merrelyn
Freel, Jim
Hoffman, John
Moore, Belinda
Schoel, Andrea
Shurzinske, Randy
Call, David
Jordan, Mike
Kocis, Maryanne
McDaniel, Lauralyn
Description
---
Trustees selected by Blanchard ; Stations closed in dorms ; Women discuss tactics ; MBA degree offered ; EDITORIAL: Paper won't keep quiet ; Amendment may result in rebellion ; Limit opinions to campus concerns ; Station just tried to survive ; CAMPUS LIVING: Crosby; Stills and Nash concert ; Kresge Picnic Thrilling ; History of Dodge Estate ; James Lee Stanley Sings at Mainstage ; o.u. offers organizations ; SPORTS: New weights lift campus interest ; Spikers stop Macomb attack ; FROM THE SIDELINES: Blood-thirsty theme foiled ; Women's soccer launch season ; Golf tourney shows local team support ; C - country covers miles to get wins
Date
---
1984-09-17
Subject
---
Oakland University. Board of Trustees
Crosby, Stills and Nash
Dormitories
Master of Business Administration
National Organization for Women
Meadow Brook Estate
Glyndebourne Picnic
Kresge Library
Lepley Sports Center
Rights
---
Users assume all responsibility for questions of copyright, invasion of privacy, and rights of publicity that may arise in using reproductions from the library's collections.
Collections
---