The Oakland Sail 1984-02-06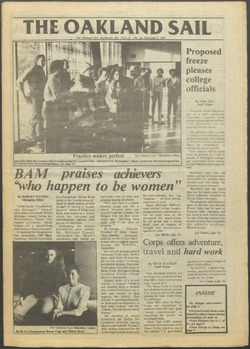 Author
---
Contributor
---
Troy, Colleen
Waters, Robert
Briggs-Bunting, Jane
Weathers, Cliff
Sleeman, Bill
King, Lorie
Conte, Joseph
George, David
Koblin, Michele
Ashley, Merrelyn
Arkwright, Jennifer
Bardy, Mia
Beadle, Cathy
Biondi, Paul
Brudzinski, Steve
Budry, Gary
Call, David
DiForte-Powers, Judy
Gill, Lori
Harrow, Sharon
Howell, Lynn
Jordan, Mike
LaBaere, Joellen M.
Lucius, Jill
O'Brien, Bill
Schlaud, Brenda
Simpson, Melody
Slaughter, Marquette
Stanley, Dean
Hoffman, John
Knoska, Emil Robert (Bob)
Howell, Lynn
Lignon, James
Manley, David
McQuiston, Dean
Schoel, Andrea
Shurzinske, Randy
Description
---
Practice makes perfect ; Proposed freeze pleases college officials ; BAM praises achievers "who happen to be women" ; Corps offers adventure; travel and hard work ; GHC braces for possible measles attack ; as flu hits campus ; Guest Column: N.O.W urges Reagan's ouster ; SPB goal is entertainment not profit ; EDITORIAL: Let's not take away "N" option ; Other Voices ; LETTERS: Request for more of same ; Column misread ; Meet the Editor ; CAMPUS LIVING - ARTS ; OU plans trips to Italy and China ; Fashion club provides modeling practice ; Summertime singing ; N.S.E. offers campus choices ; Diversions ; Author pens history ; SPORTS: Jones; Lady Titans beat OU cagers ; Crawlers win phone meet ; Impossible shot made; will anyone win $1 million? ; Mohn leads men's team to 83-70 win over SVC ; Women swim to even record ; Wrestlers improve record ; Men lose to Kenyon ; College Bowl is no "trivial pursuit" ; BUMPY ROADS ; Proposed grading change will affect GPA; final transcripts ; Cleared by university; alleged "bomb caller" faces criminal charges ; GOP grabs controlling Mich. Senate seats ; Black Awareness Month begins Women; their rights; and nothing less
Date
---
1984-02-06
Subject
---
Tuition rates
Influenza
Measles
Oakland University. Student Organizations. Student Program Board
Fashion
National Student Exchange
College Bowl
Grading system policy changes
Bomb threats
Peace Corps
Rights
---
Users assume all responsibility for questions of copyright, invasion of privacy, and rights of publicity that may arise in using reproductions from the library's collections.
Collections
---