The Oakland Sail 1983-11-21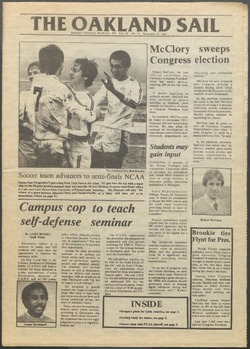 Author
---
Contributor
---
Troy, Colleen
Waters, Robert
Briggs-Bunting, Jane
Weathers, Cliff
Sleeman, Bill
King, Lorie
Conte, Joseph
George, David
Koblin, Michele
Ashley, Merrelyn
Brudzinski, Steve
Budry, Gary
Calabrese, Regina
DeWolf, David
Dillon, Kelley
Ezmerlian, Beth
Hall, Caryn
Hoffman, Angie
Joelson, J.L.
Jordan, Mike
Kahler, Julie
LaBaere, Joellen M.
Mooty, Cindy
Nowaczyk, Jill
Russo, Cary
Slaughter, Marquette
Teel, Lynn
Tetreault, Chris
Yolles, Elise
Born, Bryan
DeClaire, Tim
Knoska, Emil Robert (Bob)
Homant, Mike
Howell, Lynn
Kelly, Geraldine
Manley, David
Verville, Michael
Kennedy, Roberta
Mauser, Jean
Description
---
Soccer team advances to semi-finals NCAA ; Campus cop to teach self-defense seminar ; McClory sweeps Congress election ; Students may gain input ; Brookie ties Flynt for Pres. ; Muddied pathway to be paved over ; Other Voices ; Grease is the word ; Guest Column Is Reagan eyeing Central America? ; Superpowers playing nuclear mind games ; Ms. Pac Man kidnapped ; Camelot revisited ; EDITORIAL: Support surfaces for recent attack ; Schools need more funding ; LETTERS: Speech analysis questioned ; More thoughts on reasoning behind Pinkstaff's removal ; CAMPUS LIVING - ARTS Former OU instructor visits China ; It's that time An ounce of prevention ; "Nate and Hayes" campy but obvious ; Diversions ; Sabrina Swine Trivia extravaganza ; Pioneers win big in playoff match ; SPORTS: Men's team wins exhibition ; Cagers open versus Dearborn ; Outlaws take intramurals ; Spikers finish a 'good' sixth ; Depth problem hinders women in swim meet
Date
---
1983-11-21
Subject
---
Self-defense
Pathways
Sidewalks
Rights
---
Users assume all responsibility for questions of copyright, invasion of privacy, and rights of publicity that may arise in using reproductions from the library's collections.
Collections
---