The Oakland Sail 1983-11-14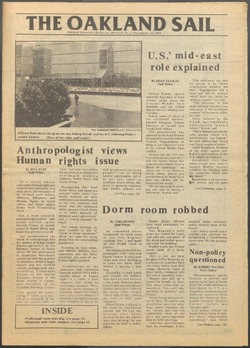 Author
---
Contributor
---
Troy, Colleen
Waters, Robert
Briggs-Bunting, Jane
Weathers, Cliff
Sleeman, Bill
King, Lorie
Conte, Joseph
George, David
Koblin, Michele
Ashley, Merrelyn
Brudzinski, Steve
Budry, Gary
Calabrese, Regina
DeWolf, David
Dillon, Kelley
Ezmerlian, Beth
Hall, Caryn
Hoffman, Angie
Joelson, J.L.
Jordan, Mike
Kahler, Julie
LaBaere, Joellen M.
Mooty, Cindy
Nowaczyk, Jill
Russo, Cary
Slaughter, Marquette
Teel, Lynn
Tetreault, Chris
Yolles, Elise
Born, Bryan
DeClaire, Tim
Knoska, Emil Robert (Bob)
Homant, Mike
Howell, Lynn
Kelly, Geraldine
Manley, David
Verville, Michael
Kennedy, Roberta
Mauser, Jean
Description
---
Anthropologist views Human rights issue ; U.S. mid-east role explained ; Dorm room robbed ; Non-policy questioned ; Sail Exclusive Insight into national past; present; future ; Bomb scare closes SFH ; Students react to Grenada invasion as thousands protest nationwide ; EDITORIAL: Apathy affects OU student body ; Other Voices ; LETTERS: Support for SAGA value ; Profs dismissal explained ; Crime costing big money ; Presidential Candidate: Bob McClory ; Peter F. Arbour: Congress Candidate ; Anthony Boganey ; Rise K.Brayton ; Kathy Carpenter ; Bill Clemens: Kim Clark ; Lonnel Coats ; Brian Crews ; John De Witte ; Ann Giacomazza ; David Jacks ; Keith William McGraw ; Charles Fisher ; Caryn M. Hall ; Colleen Ochoa ; Michael Serich ; Lynn Teel ; John Stebbins ; Greg Walters ; CAMPUS LIVING - ARTS: Former Kennedy aide provides insights into the Camelot years ; Analysis Is Schlesinger right? ; Pygmalion a comfortable; feel-good production ; Sabrina Swine - Trivia extravaganza ; EDITOR'S NOTE: Light boards highlight campus info ; New textile art exhibit at DIA ; "Uh-huh" is alright ; The video games are back again ; Pioneers; Morris Lupenec receive soccer honors ; Hartman selects harrier coach ; Victory insures berth ; SPORTS: Cardiac Kids win Can-Am ; GLIAC Media Day ; Wrestlers become national threat ; Frederick & Co. see bright future ; Lift-A-Thon successful ; Ski team awaits the snow ; Women's swim team to dip into Miami Invitational
Date
---
1983-11-14
Subject
---
Human rights
Theft
Bomb threats
Student governance
Schlesinger, Arthur
Light boards
Rights
---
Users assume all responsibility for questions of copyright, invasion of privacy, and rights of publicity that may arise in using reproductions from the library's collections.
Collections
---