The Oakland Sail 1983-10-17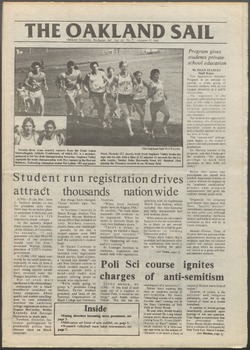 Author
---
Contributor
---
Troy, Colleen
Waters, Robert
Briggs-Bunting, Jane
Weathers, Cliff
Sleeman, Bill
King, Lorie
Conte, Joseph
George, David
Koblin, Michele
Ashley, Merrelyn
Brudzinski, Steve
Budry, Gary
Calabrese, Regina
DeWolf, David
Dillon, Kelley
Ezmerlian, Beth
Hall, Caryn
Hoffman, Angie
Joelson, J.L.
Jordan, Mike
Kahler, Julie
LaBaere, Joellen M.
Mooty, Cindy
Nowaczyk, Jill
Russo, Cary
Slaughter, Marquette
Teel, Lynn
Tetreault, Chris
Yolles, Elise
Born, Bryan
DeClaire, Tim
Knoska, Emil Robert (Bob)
Homant, Mike
Howell, Lynn
Kelly, Geraldine
Manley, David
Verville, Michael
Kennedy, Roberta
Mauser, Jean
Description
---
Student run registration drives attract thousands nation wide ; Poli Sci course ignites charges of anti-semitism ; Program gives students private school education ; GUEST COLUMN: Diet can become life threatening for image obsessed young women ; EDITORIAL: Federal loans only for those who registered ; Other Voices ; LETTERS: Shooting report not fair ; CAMPUS LIVING - ARTS Mid- career art at M. B. Gallery ; Masterpiece of the '80's 'Big Chill' a winner ; A night at the opera ; Sabrina Swine - Trivia extravaganza ; SPORTS: Volleyballers earn win in tournament; Ferris State up next ; Cliff's Notes ; Undefeated soccer squad couples victories to go 11-0 ; Golfers take first place
Date
---
1983-10-17
Subject
---
Voting
Soccer
Golf
Oakland University Art Gallery
Rights
---
Users assume all responsibility for questions of copyright, invasion of privacy, and rights of publicity that may arise in using reproductions from the library's collections.
Collections
---