The Oakland Sail 1982-12-06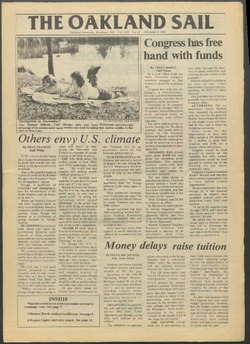 Author
---
Contributor
---
Poulin, Marianne
Sullivan, Larry
Briggs-Bunting, Jane
Vandenhemel, Dan
Primeau, Tom
Troy, Colleen
Buxton, Jim
Conte, Joseph
George, David
Shichi, Yuki
Andrews, Cheryl
Biondi, Paul
Boileau, R.M.
Brudzinski, Steve
Hasspacher, Deana
Howes, Barbara
Kahler, Julie
Lewis, Scott
Malik, Liesa
Matlera, Maria
Mauser, Jean
Mooty, Cindy
Schwartz, Carol
Serafini, Jerry
Sornig, Barb
Spiller, Peter
del Valle, Robert
Dean, Dan
Gardziola, Greg
Hoffman, John
Knoska, Emil Robert (Bob)
Malburg, Mike
Verdoni, Klara E.
Description
---
Springtime in December? ; Others envy U.S. climate ; Congress has free hand with funds ; Money delays raise tuition ; Foreigners fees near top ; Course cuts delay graduation ; Nice touch ; Debtors losing cars ; EDITORIAL: No more free lunch ; Armageddon talk viewed from the other side of Iron Curtain ; Handicapped students unite in new club ; CAMPUS LIVING - ARTS ; MBT produces dickens of a show ; Mock matrimony cause for celebration ; Fraternity holds annual food drive ; OPEN SPACE: Dealing with winter ; Seasonal style Christmas walk expanded ; Motown's best entertainment options ; SPORTS: Men win on 'piece of the rock' night ; A day full of Data ; Women top pick in league ; This season's women Pioneers ; Lady Cagers down EMU
Date
---
1982-12-06
Subject
---
Oakland University. Student Congress
Budget appropriations
Budget cuts
Meadow Brook Theatre
Meadow Brook Hall
Holiday walk
Rights
---
Users assume all responsibility for questions of copyright, invasion of privacy, and rights of publicity that may arise in using reproductions from the library's collections.
Collections
---