The Oakland Sail 1982-11-29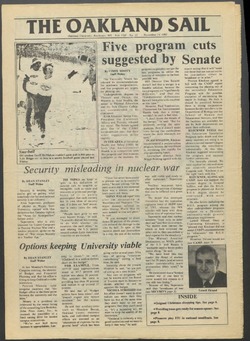 Author
---
Contributor
---
Poulin, Marianne
Sullivan, Larry
Briggs-Bunting, Jane
Vandenhemel, Dan
Primeau, Tom
Troy, Colleen
Buxton, Jim
Conte, Joseph
George, David
Shichi, Yuki
Andrews, Cheryl
Biondi, Paul
Boileau, R.M.
Brudzinski, Steve
Hasspacher, Deana
Howes, Barbara
Kahler, Julie
Lewis, Scott
Malik, Liesa
Matlera, Maria
Mauser, Jean
Mooty, Cindy
Schwartz, Carol
Serafini, Jerry
Sornig, Barb
Spiller, Peter
del Valle, Robert
Dean, Dan
Gardziola, Greg
Hoffman, John
Knoska, Emil Robert (Bob)
Malburg, Mike
Verdoni, Klara E.
Description
---
Sno-ball ; Five program cuts suggested by Senate ; Security misleading in nuclear war ; Options keeping University viable ; Headlee looks back on election ; Depression may signal trouble ; EDITORIAL: Report not all that bad ; Criticism of Soviet speaker's talk creates another negative response ; Serious conflict toward new law ; A Look at MBT's visiting actors ; CAMPUS LIVING - ARTS City of Roses offers nearby diversions ; OPEN SPACE: Video; chapter two ; Try a hand-me-down chic ; Team goes to Nationals ; Music student could make good in '83 ; SPORTS Pioneers lose in semi-finals; fall to FIU ; Swimmers strong ; Wrestlers set for the opener ; Sports is establishing a national pride ; Tubman is a proven winner
Date
---
1982-11-29
Subject
---
Oakland University. Student Congress
Budgets
Oakland University. Office of Budget and Financial Planning
Meadow Brook Theatre
Rights
---
Users assume all responsibility for questions of copyright, invasion of privacy, and rights of publicity that may arise in using reproductions from the library's collections.
Collections
---