The Oakland Sail 1982-11-15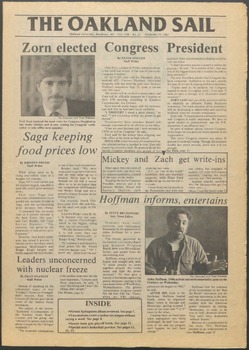 Author
---
Contributor
---
Poulin, Marianne
Sullivan, Larry
Briggs-Bunting, Jane
Vandenhemel, Dan
Primeau, Tom
Troy, Colleen
Buxton, Jim
Conte, Joseph
George, David
Hall, Caryn
Andrews, Cheryl
Biondi, Paul
Boileau, R.M.
Brudzinski, Steve
Hasspacher, Deana
Howes, Barbara
Kahler, Julie
Lewis, Scott
Malik, Liesa
Matlera, Maria
Mauser, Jean
Mooty, Cindy
Schwartz, Carol
Serafini, Jerry
Sornig, Barb
Spiller, Peter
del Valle, Robert
Dean, Dan
Gardziola, Greg
Hoffman, John
Knoska, Emil Robert (Bob)
Malburg, Mike
Verdoni, Klara E.
Description
---
Zorn elected Congress President ; Saga keeping food prices low ; Leaders unconcerned with nuclear freeze ; Mickey and Zach get write-ins ; Hoffman informs; entertains ; Aid officers resist new registration laws ; Auto president sees change ; New Congress members ; New administrator sees optimistic future ; EDITORIAL ; Student voices should be heard ; Soviet representative did his best ; Letter contains some distortions ; Daycare centers unaffected by closing ; CAMPUS LIVING - ARTS ; Herpes scare: not the end of the world ; Springsteen knows of hard life ; Original new works ; OPEN SPACE: Jogging jiggles the brain; body So what could be attraction? ; Shhh; Mime 480 ; Insurance for fateful falls of winter ; SPORTS: Pioneers tough for upcoming season ; Ferris State No. 1 Cagers picked 4th ; BASKET ; Spikers lose to Ferris State ; Pioneers tie; make playoffs ; Soccer team honored ; The 1982-83 Pioneers ; Book full of information
Date
---
1982-11-15
Subject
---
Oakland University. Student Congress
Food service
Hoffman, Abbie
Oakland University. Board of Trustees
Rights
---
Users assume all responsibility for questions of copyright, invasion of privacy, and rights of publicity that may arise in using reproductions from the library's collections.
Collections
---