The Oakland Sail 1982-10-25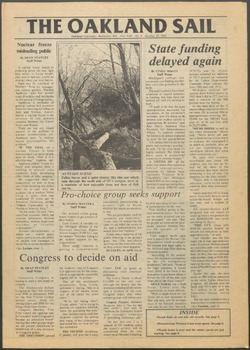 Author
---
Contributor
---
Poulin, Marianne
Sullivan, Larry
Briggs-Bunting, Jane
Vandenhemel, Dan
Primeau, Tom
Troy, Colleen
Buxton, Jim
Conte, Joseph
George, David
Hall, Caryn
Andrews, Cheryl
Biondi, Paul
Boileau, R.M.
Brudzinski, Steve
Hasspacher, Deana
Howes, Barbara
Kahler, Julie
Lewis, Scott
Malik, Liesa
Matlera, Maria
Mauser, Jean
Mooty, Cindy
Schwartz, Carol
Serafini, Jerry
Sornig, Barb
Spiller, Peter
Valle, Robert del
Dean, Dan
Hoffman, John
Knoska, Emil Robert (Bob)
Verdoni, Klara E.
Description
---
Nuclear freeze misleading public ; Congress to decide on aid ; AUTUMN SCENE ; Pro-choice group seeks support ; State funding delayed again ; Candidate's wife helps people worldwide ; EDITORIAL: One vote can count when it is never cast ; Hodes decision made too hastily ; CAMPUS LIVING - ARTS ; "A Doll House"; dynamic new production ; Convention offers disc deals ; OPEN SPACE: Student's simple guide to enriching word power ; SPORTS: Pioneers win in last home game ; Baseball finally over as Cards top Brewers ; Hillsdale defeats Pioneers ; Runners finish seventh in Houghton
Date
---
1982-10-25
Subject
---
Budget appropriations
Oakland University. Student Congress
Rights
---
Users assume all responsibility for questions of copyright, invasion of privacy, and rights of publicity that may arise in using reproductions from the library's collections.
Collections
---