The Oakland Sail 1982-10-04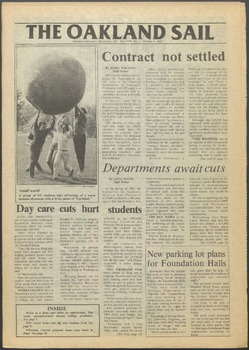 Author
---
Contributor
---
Poulin, Marianne
Sullivan, Larry
Briggs-Bunting, Jane
Vandenhemel, Dan
Primeau, Tom
Troy, Colleen
Buxton, Jim
Conte, Joseph
George, David
Hall, Caryn
Andrews, Cheryl
Biondi, Paul
Boileau, R.M.
Brudzinski, Steve
Hasspacher, Deana
Howes, Barbara
Kahler, Julie
Lewis, Scott
Malik, Liesa
Matlera, Maria
Mauser, Jean
Mooty, Cindy
Schwartz, Carol
Serafini, Jerry
Sornig, Barb
Spiller, Peter
del Valle, Robert
Dean, Dan
Hoffman, John
Knoska, Emil Robert (Bob)
Verdoni, Klara E.
Description
---
Contract not settled ; Departments await cuts ; New parking lot plans for Foundation Halls ; Small world ; Day care cuts hurt students ; Board President Headlee has high hopes ; Congress may get third chief ; Senate approves aid denial ; Parents ask for funds ; EDITORIAL: Sheepskin offers no job guarantees ; World forgets all too easily ; Remember all the Saints and Sinners ; OU student solves terminal problem ; Past US actions caused Cold War ; Survey is released ; Now just relax ; CAMPUS LIVING - ARTS: WHO bids "Farewell" to North America ; Grads face unemployment ; Lean back with Bach ; DIVERSIONS ; "The Wall": Pink Floyd's concept film ; OPEN SPACE: A yearly season opener: Play the drop-add game ; Blood drive pumping up ; SPORTS OU trounces Indiana Tech 7-0 ; NFL strike will hurt college player ; Volleyball team wins two ; Gym to have first test ; Physical fitness program helps heart ; OU golf team finishes second at Aquinas ; Saginaw Valley dominates first cross-country meet
Date
---
1982-10-04
Subject
---
AAUP contracts
Contract negotiations
Unions
Parking
Oakland University. Student Congress
Rights
---
Users assume all responsibility for questions of copyright, invasion of privacy, and rights of publicity that may arise in using reproductions from the library's collections.
Collections
---