The Oakland Sail 1982-09-20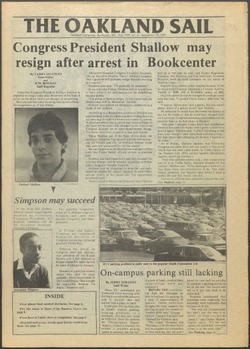 Author
---
Contributor
---
Poulin, Marianne
Sullivan, Larry
Briggs-Bunting, Jane
Vandenhemel, Dan
Primeau, Tom
Troy, Colleen
Vernon, Jeff
Conte, Joseph
George, David
Hall, Caryn
Andrews, Cheryl
Biondi, Paul
Boileau, R.M.
Brudzinski, Steve
Hasspacher, Deana
Howes, Barbara
Kahler, Julie
Lewis, Scott
Malik, Liesa
Matlera, Maria
Mauser, Jean
Mooty, Cindy
Schwartz, Carol
Serafini, Jerry
Sornig, Barb
Spiller, Peter
del Valle, Robert
Description
---
Congress President Shallow may resign after arrest in Bookcenter ; Simpson may succeed ; On-campus parking still lacking ; Shallow looks to future and sees hope ; OU dorms costly ; Students adapt to new times ; University shrouds arrest information ; EDITORIAL: Long lines for new course ; Students will learn from store incident ; Status quo support high in Ivy Leagues ; CAMPUS LIVING - ARTS ; Live comedy hits Oakland campus ; New style; new sound in debut release ; Pickers association grows ; OPEN SPACE: Student leaves dorms with a touch of regret ; The CPS Weekly Crossword Puzzle ; The Idlers: a group of different drummers ; Kappa week begins ; SPORTS: Lepley Center installs new floor ; Pioneers beat Lewis in Classic ; America loves football ; Coaching change Stevenson new coach for cross-country team ; SID's position posted ; Women's golf to meet ; Oakland Netters win season opener ; Road trip ends in 0-0 tie
Date
---
1982-09-20
Subject
---
Oakland University. Student Congress
Oakland University. Bookstore
Parking
Residence halls
Champagne, Joseph E. (Joseph Ernest), 1938-
Allen, Tim, 1953-
Rights
---
Users assume all responsibility for questions of copyright, invasion of privacy, and rights of publicity that may arise in using reproductions from the library's collections.
Collections
---