Focus: Oakland 1973-10-09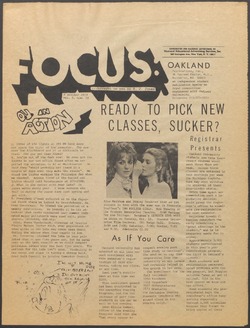 Author
---
Contributor
---
Knoska, Emil Robert (Bob)
Hadley, Lawrence D.
Pociask, Robert A.
Vitale, Nick
Kredo, Tom
Young-Kennedy, Homer, III
Cunningham, Karie
Kelly, Rosalyn
Barshaw, Charles J.
Burgess, Sandra
Ridley, Robin
Yardley, Denise
Nahajewski, Al
Motylinski, Nancy
Greer, Betty
Storum, Gayle Ana
Looney, Ethel
McConner, Michelle
May, Peter R.
Dearing, Vicki
Drife, Marie
Seroka, Donna
Long, Chris
Greening, Bruce
Schultz, Ann
Herbertson, Thomas W.
Carnaby, Henry
Greenough, Mark
Description
---
OU IN ACTION ; READY TO PICK NEW CLASSES SUCKER? ; Registrar Presents ; As If You Care ; SOME PIRGIM FACTS ; WHAT IS STUDENT LIFE? TRIO vs. TRIO ; SAGA UNIVERSITY CONFAB ; A I R WAVES ; EXPLOSIVE SEASON FOR ADA! ; In Focus ; FRENCH MUSIC ; LADY COACH OUT OF HER LEAGUE: I ARE A FOOTBALL ; Rallye round the road Oues! ; KARATE POWER ; COME TO THE (AHC) CABARET ; OU OVERRUN ; PIONEERS KAZOO ; Resident Parking Screw #99999 ; Somebody Flush Beer Lake
Date
---
1973-10-09
Subject
---
Enrollment
Registration
PIRGIM
Food service
Crime
Scholarships
Rights
---
Users assume all responsibility for questions of copyright, invasion of privacy, and rights of publicity that may arise in using reproductions from the library's collections.
Collections
---