Focus: Oakland 1973-04-18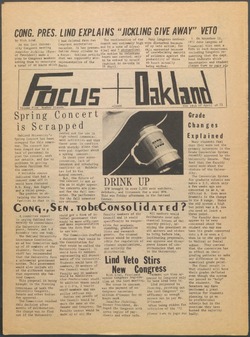 Author
---
Contributor
---
Knoska, Emil Robert (Bob)
Hadley, Lawrence D.
Pociask, Robert A.
Johnson, Donald E.
Young-Kennedy, Homer, III
Woloszynski, Catherine (Cass)
Johnson, Earl
Moen, Paul
Kenny, Kevin
Wilson, Sue
Flynn, Lee
Moore, Kevin
Johnson, Rick
Kredo, Tom
Barshaw, Charles J.
Storum, Gayle Ana
McConner, Michelle
Greer, Betty
Theison, Sue
Wojtowicz, Gregory
Knoska, Sue Ann
Herbertson, Thomas W.
Carnaby, Henry
Buch, Laura
Kinsella, Dan
Wyatt, Emsley J.
Reggini, Nibia
Flynn, Anna
Overbaugh, Roy
Smith, Linda
Description
---
CONG. PRES. LIND EXPLAINS "JICKLING GIVEAWAY" VETO ; Spring Concert is Scrapped ; DRINK UP ; Grade Changes Explained ; CONG. - SEN. TO BE CONSOLIDATED? ; Lind Veto Stirs New Congress ; SPECIAL ARRANGEMENT FOR VETERANS CREDIT ; Student Photo Show Ends A Winner ; VET SMOKE VETS' BENEFITS BILL PASSED ; DDT MY ASS ; WOMEN STUDIES ; IN FOCUS ; REPEAT THE CERVOID CONFERENCE and STRUTTING at the STRATA: ABC WIDE WORLD OF ENTERTAINMENT ; GOLD START FOR SPRING SPORTS ; viewpoint Frosh Observations
Date
---
1973-04-18
Subject
---
Grading policy
Governance
Veterans
Women's studies
Rights
---
Users assume all responsibility for questions of copyright, invasion of privacy, and rights of publicity that may arise in using reproductions from the library's collections.
Collections
---