Focus: Oakland 1973-03-14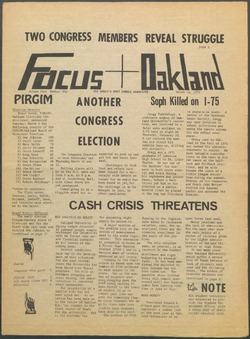 Author
---
Contributor
---
Knoska, Emil Robert (Bob)
Hadley, Lawrence D.
Pociask, Robert A.
Reynolds, Jeffrey
Johnson, Donald E.
Woloszynski, Catherine (Cass)
Mann, Sonja
Greer, Betty
Young-Kennedy, Homer, III
Moen, Paul
Kenny, Kevin
Barshaw, Charles J.
Johnson, Earl
Storum, Gayle Ana
McConner, Michelle
Hopper, Kathy
Wilson, Sue
Herbertson, Thomas W.
Gassen, Richard
Carnaby, Henry
Flynn, Lee Ann
Gordy, Bob
Mitchner, Bob
Moore, Kevin
Johnson, Rick
Kredo, Tom
Theison, Sue
Buch, Laura
Arend, Jeanine
Adriaens, Mary
Description
---
PIRGIM ; Inside ; ANOTHER CONGRESS ELECTION ; Soph Killed on 1-75 ; CASH CRISIS THREATENS: NEW ANALYSIS-OU BUDGET ; MORE MONEY? ; NOTE ; Congress: An Analysis ; HOW IT ALL STARTED ; THE SAB HASSLE ; PIRGIM attacks gas price signs ; KELLEY'S OFFICE PROMISES ACTION ON DECEPTIVE ADS ; MD's rapped too ; SET Recreates Creation ; Air Waves ; BB Bounces Out: PIONEERS END SEASON ON A WINNING NOTE ; Dahhling Bette ; BETTER BETTORS ; Heading in the right direction ; BIBLE STUDY AT OU ; NOMINATIONS FOR WILSON AWARDS ; ABC WIDE WORLD OF ENTERTAINMENT ; THE FUTURE ; Szabo Changes
Date
---
1973-03-14
Subject
---
Oakland University. Student Congress
Budget cuts
Rights
---
Users assume all responsibility for questions of copyright, invasion of privacy, and rights of publicity that may arise in using reproductions from the library's collections.
Collections
---