Focus: Oakland 1972-11-15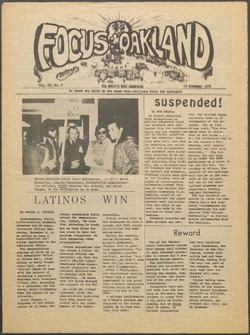 Author
---
Contributor
---
Axinn, Paul R.
Lull, Wendy
Hyder, Katie
Psihas, Xenia
Dunifon, Wayne
Ciullo, James G.
Van Fleteren, Steve
Taylor, Lisa
McClain, Phil
LaBelle, Debbie
Witschi, Daniel R.
Barshaw, Charles J.
LeGag, Scott
Pociask, Robert A.
Knoska, Emil Robert (Bob)
Brazier, Jim
Landis, Sheila
Hadley, Lawrence D.
Baker, Alice
Herbertson, Thomas W.
Johnson, Rick
Presnell, Ann
Greer, Betty
Simmons, Shelagh
Lytle, Mike
Nachwostach, Terry
Sunny
Description
---
suspended! ; LATINOS WIN ; Reward ; space warp ; ed. Note ; warning ; REGISTRATION ; VETERANS ; Food and Health ; OU Extension ; ADA ; Don't We ALL? ; Lorin Hollander - Pianist ; Sounds Illusions & Expressions: Why Dontcha? West Bruce and Laing ; OPERATION: I.D. ; PIRGIM ; DEWEY WINS ; THE OU KID
Date
---
1972-11-15
Subject
---
Latino students
Substance abuse
Graham Health Center
Veterans
Crime
Rights
---
Users assume all responsibility for questions of copyright, invasion of privacy, and rights of publicity that may arise in using reproductions from the library's collections.
Collections
---