Focus: Oakland 1974-10-02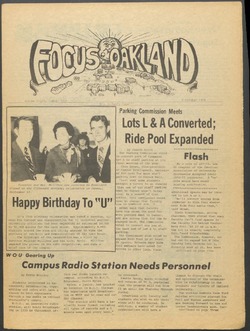 Author
---
Contributor
---
Hadley, Lawrence D.
Pociask, Robert A.
Nahajewski, Al
Schroder, John
Glaser, Gary
Varndell, Sherry
Rayner, Denise
Chomin, Linda
Kidney, Stu
Llewellyn, James
Arend, Jeanne
Jensen, Fred
Johnson, Bob
Shacklett, John
Russell, Ron
Crall, Sandi
Peebles, Bob
Wisely, Kathy
Pennington, Geoff
Horvath, William
Hewlett, Edward R.
Hillock, Brenda
English, Leen
Wisniewski, Laurel
Cochran, Lori
Long, Christel
O'Dowd, Donald D.
Description
---
Happy Birthday To "U" ; Parking Commission Meets Lots L&A Converted; Ride Pool Expanded ; Flash ; W.O.U. Gearing Up Campus Radio Station Needs Personnel ; editorial Open House Over; Saga Helps Focus ; Ka-Zoo Report: Black Students- Get Your Minds Together ; Commuter Contact In Captivity: Open Offices - Legal Aid - Blood Donations - Parking Commission & SEMTA ; Academic Acne: The Selling Of OU ; Women's Potential To Start ; "I Biked To Port Huron And Lived To Tell About It." ; Nonce Ensemble To Perform ; Goodby Gabone Hello REE ; The James Gang Rides Again ; Poetry ; Focus Campus Kalendar: Commuter Council Serves ; Drop Albion - Eastern Michigan Defense Excels In Shutout Soccer Victories ; Construction On Golf Course Under Way ; Oakland Runners Fade ; ON THE SPOT: OU Soccer Foes Beware ; IM Football Results ; The Meeting Of The Minds
Date
---
1974-10-02
Subject
---
Parking
Oakland University. Student Organizations. WXOU
Commuter Council
Golf
Milliken, William, 1922-2019
Rights
---
Users assume all responsibility for questions of copyright, invasion of privacy, and rights of publicity that may arise in using reproductions from the library's collections.
Collections
---