The Oakland Observer 1968-10-25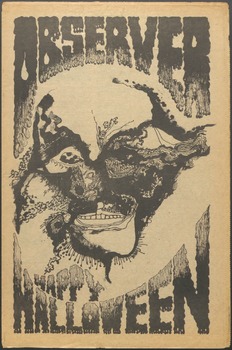 Author
---
Contributor
---
Honey, Mike
Black, David
Harper, Norman W.
Bennett, Mark
Allen, Martha
Louisell, Ruth
Zawodni, Cathy
Schwab, Fran
Campbell, Colin
Sachau, Rosalind
Gaynor, Steven
Knight, Nancy
Webster, Ken
Einstein, Allan
Bernstein, David
Walkowitz, Karen
Catton, Davis
Neumer, Bruce
Wolf, Martin
Dutzmann, Ingo
Tyson, Clarence
Hitchcock, Michael
Davidson, Joe
Letvin, David
Schalberger, Bill
Description
---
OBSERVER HAPPY HALLOWEEN ; Libor Velinsky ; Oakland to Face Budget Crisis Again? ; Panel Discusses Drugs ; Observer Presents Halloween Horrorscope ; Future Forecast ; BOO ; Gala Halloween Dance ; Soldiers Stage Peace March ; U. of M. Office Building Dynamited ; Students Strike Canadian Schools Shut Down ; Classes Begin at Columbia ; Detroiters Protest War ; Plot to Kill New Left Leaders ; NEWS SHORTS ; ACLU Extends Guidelines ; Gregory Gains Endorsements ; NATIONAL NEWS Cleaver Lectures on Berkley Campus ; ARTS: The Electric Mud ; Inscape Sponsors Poetry Reading ; Discount Record Labels ; Asian Journal Needs Student Help ; Who Rules America? ; Meadowbrook Opens Third Season ; The Bride Wore Black ; Black Speaker on "Slave and Master" ; Commission Discusses Club Bias ; "Student as Nigger" Again ; New Engineering Scholarship ; Engineer School Presents Speakers ; "La Inutil Guerra"; "The Useless War" ; Interior Ghosts & Goblins ; Editorials Observer Initiative Overcomes Red Tape ; Fun Games Mark Involved Student Retreat ; Letter Police Response Poor ; Attempts to Revive Prof. ; Suspension Resolution Rescinded ; Pfieffer Quoted Out of Context ; Charges Dropped ; S.E.T. Rehearses Medieval Musical
Date
---
1968-10-25
Subject
---
Student suspension policy
Budget cuts
Student Enterprise Theatre
OU Drug Education Committee
Rights
---
Users assume all responsibility for questions of copyright, invasion of privacy, and rights of publicity that may arise in using reproductions from the library's collections.
Collections
---