The Oakland Observer 1968-10-11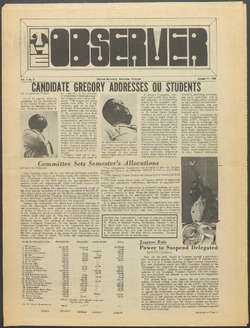 Author
---
Contributor
---
Honey, Mike
Black, David
Harper, Norman W.
Bennett, Mark
Allen, Martha
Louisell, Ruth
Zawodni, Cathy
Schwab, Fran
Campbell, Colin
Sachau, Rosalind
Gaynor, Steven
Knight, Nancy
Stanton, Bill
Einstein, Allan
Bernstein, David
Walkowitz, Karen
Catton, Davis
Neumer, Bruce
Wolf, Martin
Dutzmann, Ingo
Tyson, Clarence
Hitchcock, Michael
Davidson, Joe
Letvin, David
Pfieffer, Bill
Schalberger, Bill
Chorzempa, Mary Ann
Description
---
CANDIDATE GREGORY ADDRESSES OU STUDENTS ; Committee Sets Semester's Allocations ; Trustees Rule Power to Suspend Delegated ; NATIONAL NEWS: Leftists To Plan "Election Offensive" ; "The Student As Nigger" Survives Censorship Test ; California Regents Yield on Cleaver Issue ; Wilsons' Weekend Promises Fun Filled Days ; ADC Welfare Sit-in Ended ; ARTS: S.E.T. Announces Fall Cast ; The Beatle's "Revolution" ; Bartok At Half The Price ; Big Brother At Grandee ; American Education: White and Black ; COMMENTARY CONFRONTATION OR DIALOGUE? ; On PAINTED BLACK ; Draft Calls For December Now Set ; SPORTS: Soccer Team Ties Schoolcraft ; METRO UNLIKELY ; SPORTS SHORTS
Date
---
1968-10-11
Subject
---
Gregory, Dick
Student Enterprise Theatre
Student suspension resolution
Rights
---
Users assume all responsibility for questions of copyright, invasion of privacy, and rights of publicity that may arise in using reproductions from the library's collections.
Collections
---