The Oakland Observer 1968-09-27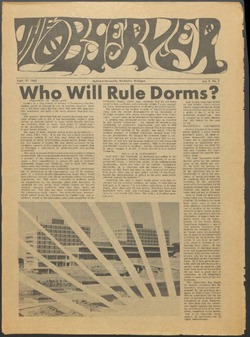 Author
---
Contributor
---
Honey, Mike
Black, David
Harper, Norman W.
Bennett, Mark
Allen, Martha
Louisell, Ruth
Zawodni, Cathy
Schwab, Fran
Campbell, Colin
Sachau, Rosalind
Gaynor, Steven
Stanton, Bill
Einstein, Allan
Bernstein, David
Moll, Richard
Walkowitz, Karen
Catton, Davis
Neumer, Bruce
Wolf, Martin
Dutzmann, Ingo
Klein, Barry
Tyson, Clarence
Hitchcock, Michael
Davidson, Joe
Letvin, David
Description
---
Who Will Rule Dorms? ; Students Allocate Activities Money ; Varner Ignores Student Demands O.S.S.C.R. Plans General Election ; Priest Tells About Chicago ; Cleaning Services Cutback ; SPEAKER CLARIFIES BLACK HISTORY ; University Senate - Art-Science Assemby Act As OU Government ; Oakland Review Need Writers ; News Shorts ; Education? ; Dick Gregory ; Grape Boycott Continues ; ARTS: Grass: Eventual Acceptance ; The Procol Harem ; Lead Guitar as Anti-Hero ; Observer Sponsors Literary Supplement ; Hamlet at Hillberry ; White Insensitivity Causes Racial Tensions ; Black Student Protest Discriminating Housing ; Draft Case Causes Clamer ; Role of Placement Office Questioned ; New Offering in Jail ; SPORTS: RUN ; SOCCER ; I. M. Caters To Women
Date
---
1968-09-27
Subject
---
Dormitories
Student Activities Board
Oakland University. Senate
Oakland Review
Rights
---
Users assume all responsibility for questions of copyright, invasion of privacy, and rights of publicity that may arise in using reproductions from the library's collections.
Collections
---