Assessing the Best Ways to Evaluate Elementary School Teachers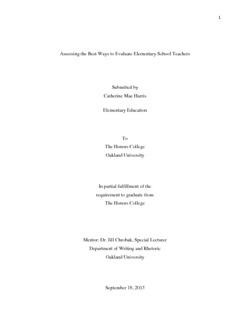 Related items
Showing items related by title, author, creator and subject.
Daniel, Dominique

(

Society for History Education

,

2012-01

)

The article discusses innovations in information and communication technologies and examines their impact on the teaching of history, as well as student learning. Particular focus is given to ways in which the practices ...

How are teacher characteristics related to teaching practices in reading instruction? Melton, Smothers, Anderson, Fulton, Replogue, & Thomas (2004) maintained teachers are the most powerful dynamic in the classroom. African ...

Long, Janette; Moran, Wendy; Harris, Joanne

(

Association for Interdisciplinary Studies

,

2010

)

This article explores the history and development of interdisciplinarity within the Australian context. Conditions and circumstances for the emergence of interdisciplinary approaches are explored with discussion identifying ...