Review: Paul Collier The Bottom Billion: Why the Poorest Countries are Failing and What Can Be Done About It (Oxford University Press, 2007).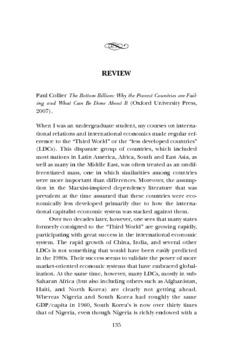 Author
---
xmlui.dri2xhtml.METS-1.0.item-editor
---
Date
---
2008-10-01
Abstract
---
Much of what Collier writes about will be familiar with specialists in development, but this book is designed for a more general audience. He explains in clear, concise language the findings of numerous studies by economists, including his own work, that look at the problems of the world's poorest countries.
Citation
---
"Review: Paul Collier The Bottom Billion: Why the Poorest Countries are Failing and What Can Be Done About It" Oakland Journal 15 (2008), 135-137
Collections
---