OER Readiness and Environmental Scan of Departments with High-Enrollment Courses - SPARC OER Fellowship Final Report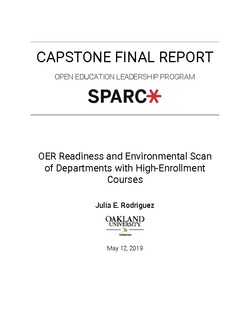 Author
---
Rodriguez, Julia E.

Date
---
2019-05-12
Abstract
---
For my SPARC OER Fellowship capstone project I conducted an open educational resources (OER) readiness and environmental scan of three departments with the high enrollment courses (HEC) to gather data about current practices, structures, policies, attitudes and course material usage to determine which departments would most likely switch to OER or low-cost alternatives. For this scan, I developed a methodology that includes collecting data from departments with HECs by conducting a textbook listening tour, small group interviews and gathering university data to determine which program/courses will most likely convert a course. The methodology developed relies on a deep listening approach for conducting a textbook listening tour. Deep listening "is a way of hearing in which we are fully present with what is happening in the moment without trying to control it or judge it." This methodology allows for the listener to hear the intention of the speaker, and actively listen in an empathetic supportive manner that builds trust. Adapting an existing listening tour question base, I divided the listening tour meetings into two separate discussions. The first meeting employed a deep listening approach for the discussion of the current textbook use and department practices. At the follow-up meeting, the discussion introduced options for "getting to affordable" based on what was learned and what was heard about the department's needs and values. The listening tour data was used to immediately address low hanging fruit that arose during the discussion such as; creating a course affordability tips faculty handout and adding an iclicker collection to library reserves. The data gathered supported the campus affordable course materials initiative which launched during this time. The full environmental scan methodology was developed into a community resource using a publicly accessible Google document linked via SPARC's OER Fellowship program webpages and deposited in Oakland University's institutional repository, OUR@Oakland.
xmlui.dri2xhtml.METS-1.0.item-citation
---
Rodriguez, J.E. (2019). "OER Readiness and Environmental Scan of Departments with High-Enrollment Courses." OU Libraries, Oakland University. SPARC OER Fellowship Final Report.
Collections
---