The Oakland Observer 1966-01-21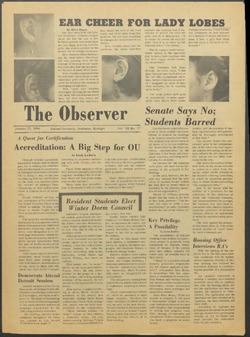 Author
---
Contributor
---
Johnston, David
Crouse, Janet
O'Reilly, Maggie
Held, John
Hinga, Jim
Dillabaugh, Ruth
Hayes, Alice
Schwab, Fran
Honey, Mike
Bradetich, Chris
LaBelle, Sandy
Weiner, Bob
Webber, Bob
Stephens, Ron
Winston, Neil
Goldberg, Stuart J.
Wagner, Jim
Barcalow, Ray
Hale, Norm
O'Hara, Sharon
Thomas, Dave
MacLellan, John
Description
---
EAR CHEER FOR LADY LOBES ; A Quest for Certification Accreditation: A Big Step for OU ; Democrats Attend Detroit Session ; Resident Students Elect Winter Dorm Council ; Senate Says No; Students Barred ; Key Privilege A Possibility ; Housing Office Interviews RA's ; Editorial Senate Snubs Students ; Potter Gets AIIS Grant; $14000 for Year in India ; Mike Honey: U.S. Wants World Control ; French Travelers To Invade France ; Rights Committee Fights Pontiac Gerrymandering ; University Accepts Three U.S. Grants ; Hares Vital in Bio Project ; Floyd Cammack Authors Three Articles Concerning Modern Library Techniques ; Notices ; Placement ; Philosophy ; Insurance ; Day Care ; NDEA ; Library ; Make Plans Twenty 'Sisters' Meet ; Swimmers Win Second Straight ; New Number Tells Where The Action Is ; Sports Briefs ; Winter Spree Plans Begin ; Athletics Honored At Sports Banquet ; Speaking of Sports Varner Backs Sports ; Intramural Basketball Bombers Stop Hot Dogs ; Alumni Donate Book Funds ; Power of Greek Tragedy To Be Subject of Lecture ; League Standings ; Individual Scoring
Date
---
1966-01-21
Subject
---
Women's hours
Technology
Accreditation
O'Dowd, Donald D. (Donald Davy), 1927-
Oakland University. Senate
Research grants
Kresge Library
Varner, Durward B., 1917-1999
Rights
---
Users assume all responsibility for questions of copyright, invasion of privacy, and rights of publicity that may arise in using reproductions from the library's collections.
Collections
---