"Fun and carefree like my polka dot bowtie": Disidentifications of trans*masculine students of color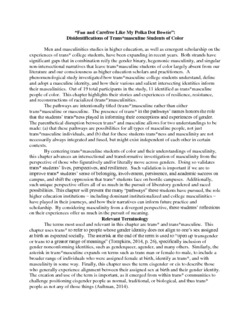 xmlui.dri2xhtml.METS-1.0.item-editor
---
Johnson, J.M.
Javier, G.C.

Date
---
2017
Abstract
---
Men and masculinities studies in higher education, as well as emergent scholarship on the experiences of trans* college students, have been expanding in recent years. Both strands have significant gaps that in combination reify the gender binary, hegemonic masculinity, and singular non-intersectional narratives that leave trans*masculine students of color largely absent from our literature and our consciousness as higher education scholars and practitioners. A phenomenological study investigated how trans*masculine college students understand, define and adopt a masculine identity, and how their various and salient intersecting identities inform their masculinities. Out of 19 total participants in the study, 11 identified as trans*masculine people of color. This chapter highlights their stories and experiences of resilience, resistance, and reconstructions of racialized (trans*)masculinities.
xmlui.dri2xhtml.METS-1.0.item-citation
---
Jourian, T.J. (2017). "Fun and carefree like my polka dot bowtie": Disidentifications of trans*masculine students of color. In J. M. Johnson & G. C. Javier (Eds.). Queer People of Color in Higher Education (pp. 123-143). Charlotte, NC: Information Age Publishing.
Collections
---