A person-centered approach to expressed humility in leadership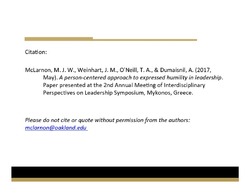 Author
---
McLarnon, Matthew J. W.
Weinhart, Justin M.
O'Neill, Thomas A.
Dumaisnil, Aidan

Date
---
2017-05
Abstract
---
An emerging topic within the leadership literature is that of expressed humility, as it has been considered critical for leading during challenging circumstances (Owens, Johnson, & Mitchell, 2013). Owens et al. proposed a model of expressed humility encompassing the facets of a) viewing one's self accurately, b) appreciating the strengths of others, and c) being open to feedback from others. However, they overlooked the possibility of discrete types of leaders characterized by varying levels of the expressed humility facets. Here, we examined expressed humility through a person-centered lens, which represents a novel perspective on expressed humility, and leadership in general, as the vast majority of past research has used variable- centered approaches.
xmlui.dri2xhtml.METS-1.0.item-citation
---
McLarnon, M. J. W., Weinhart, J. M., O'Neill, T. A., & Dumaisnil, A. (2017, May). A person-centered approach to expressed humility in leadership. Paper presented at the 2nd Annual Meeting of Interdisciplinary Perspectives on Leadership Symposium, Mykonos, Greece.
Collections
---