The librarian leading the machine: A reassessment of library instruction methods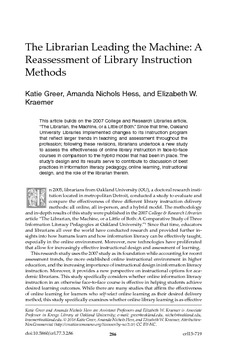 Author
---
Greer, Katie
Nichols Hess, Amanda
Kraemer, Elizabeth W.

Date
---
2016-05
Abstract
---
This article builds on the 2007 College and Research Libraries article, "The Librarian, the Machine, or a Little of Both." Since that time, Oakland University Libraries implemented changes to its instruction program that reflect larger trends in teaching and assessment throughout the profession; following these revisions, librarians undertook a new study to assess the effectiveness of online library instruction in face-to-face courses in comparison to the hybrid model that had been in place. The study's design and its results serve to contribute to discussion of best practices in information literacy pedagogy, online learning, instructional design, and the role of the librarian therein.
xmlui.dri2xhtml.METS-1.0.item-citation
---
Greer, K., Nichols Hess, A., & Kraemer, E. W. (2016). The librarian leading the machine: A reassessment of library instruction methods. College & Research Libraries, 77(3), 286-301.
Collections
---
Related items
Showing items related by title, author, creator and subject.
Kraemer, Elizabeth W.

;

Lombardo, Shawn V.

;

Lepkowski, Frank J.

(

ACRL Publications

,

2007-07

)

Each year, Oakland library faculty provide information literacy instruction for Rhetoric 160, a first-year writing course, through a combination of WebCT-based online tutorials and in-class teaching. For this study, twelve ...

Nichols Hess, Amanda

;

Greer, Katie

(

Information Today, Inc.

,

2014

)

This chapter analyzes the Standards through lens of the ACRL standards and the AASL standards. Authors share what teachers and administrators can learn from how these library standards have already been assessed for assessing ...

Kraemer, Elizabeth W.

(

American Library Association

,

2003-06

)

Rising enrollments at Oakland University (OU) have required librarians to decrease instruction time with each basic writing class in order to preserve contact with all sections. As a result, the faculty at Kresge Library ...