Oakland University News: April 9, 1974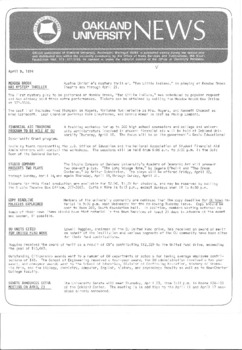 Description
---
Meadow Brook Has Mystery Thriller, Financial Aid Training Program to Be Held at OU, Studio Company Presents Two Plays, Copy Deadline Policies Explained, OU Units Cited for United Fund Work, Senate Announces Extra Meeting on April 23, Board Approves New Room and Board Rates, Unising Leaders Give Concert April 9, Board Accepts Gifts and Grants, Book Stocks Down Due to Paper Shortage, Morse is Editor of New Book of Fiction, Board Approves 10 Leaves, and Other Personnel Actions, Only External Problems Face Oakland in Near Future, Cutts Is Author of Newly Published Book, Dick Gregory Speaks Here Wednesday, April 10, Harker to Give Paper at Professional Meeting, International Coffee Scheduled for April 26, Campus Calendar, Campus Ticket Office, Faculty-Student Team Attends Science Conference, Oakland University Job Openings.
Date
---
1974-04-09
Subject
---
University History
Meadow Brook Theatre
Financial aid
Oakland University. College of Arts and Sciences. Academy of Dramatic Art
Room and board rates
State of the University
Gregory, Dick
Collections
---
Related items
Showing items related by title, author, creator and subject.
University Relations News Service

(

Oakland University

,

1985-12-13

)

Employee Recognition Program ; Goal Set at $50,000 for faculty.Staff Drive ; Students Aid Holiday Cheer ; Macomb Gains as Feeder County for Enrollment ; Mimes Perform in Holly ; Sign-up begins for Word Processing ; Profile ...

University Relations News Service

(

Oakland University

,

1985-10-18

)

George Dahlgren appointed vice provost and dean of graduate study ; Giblin Receives Select Award ; Enrollment at All-Time High ; Liaison Established to Assist Development ; Riley to Chair Board ; OU Seeks added Funds ; ...

University Relations News Service

(

Oakland University

,

1989-10-27

)

A New Chapter for Kresge Library: Dedication on November 8 Marks Completion of Renovation Program ; Board Approves $57.8 Million Operating Budget for 1989-90 ; Capital Outlay Requests Sent to Lansing; Science Building at ...