Oakland University News: November 13, 1973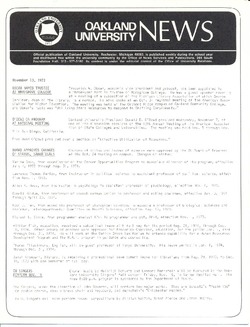 Description
---
Obear Named Trustee at Marygrove College, O'Dowd on Program at National Meeting, Board Approves Changes of Status, Sabbaticals, OU Singers Perform Nov. 16, Sigma Xi Lecture Announced for Nov. 20, Exercise Science Laboratory Open to Staff, Award Winner Vaughn Directs ADA Production, Dean DeMont Is Co-Author of Article, Freeman Elected Chapter President, OU Has Internship Program with Hospitals, Royal Ballet Featured in Children's Film, Coppola's Reviews Are Published, Miss Kotzian Coaches Age Group Swimming, Mathematics Faculty at Professional Meetings, Stern's Paper Published in Journal, Clatworthy Participates in LBJ School Symposium, Douglas Fairbanks Get Service Award, Cutts's Book Accepted for Publication, Soccer Team Rolls On; Tournament Bid Possible, Campus Calendar, Campus Ticket Office, James Hughes Is Co-Author of Series, Allport College Student Receives National Award, Johnson Receives Doctorate from WSU, Intramural Holiday Tournament Planned, Board Meets Saturday, Dec. 1, Pam Marin Named Member of Admissions Committee.
Date
---
1973-11-13
Subject
---
University History
Obear, Frederick W.
O'Dowd, Donald D. (Donald Davy), 1927-
Oakland University Singers
Oakland University. College of Arts and Sciences. Academy of Dramatic Art
Institutional partnerships
Internships
Medical students
Collections
---
Related items
Showing items related by title, author, creator and subject.
University Relations News Service

(

Oakland University

,

1987-09-18

)

Griffiths: 'Find a Cause, Work Hard' ; Eberwein, Bragg Receive Excellence Awards ; Gallery Opens with 'Magic in the Mind's Eye' ; Board Confers Emeritus Title on Eklund ; Conference Draws International Experts ; Upward ...

University Relations News Service

(

Oakland University

,

1987-10-02

)

Address to the Senate and Faculty September 17, 1987 ; Published October 2, 1987.

University Relations News Service

(

Oakland University

,

1992-03-23

)

Sandra Packard Accepts Offer for OU Presidency ; Past University Leaders