Win-Win Professional Development: Providing meaningful professional development while meeting the needs of all stakeholders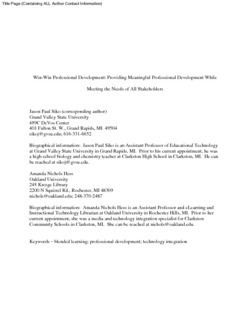 Author
---
Siko, Jason P.
Nichols Hess, Amanda

Date
---
2014-11
Abstract
---
Teacher professional development can be poorly executed with little regard to the needs of adult learners, and this can create barriers to successful transfer of knowledge into practice. In order to create a successful professional development program, a group of educators engaged in a collaborative effort with a local university to offer on-site graduate courses in technology integration that was geared toward the specific needs of teachers in our district. By offering graduate courses covering district technology at reduced tuition held after hours on school grounds, we created a "win-win" situation for our staff and administration. Such a program can be replicated in other environments with continuing education credits or other recertification units to offer "win-win" professional development for K-12 educators.
xmlui.dri2xhtml.METS-1.0.item-citation
---
Siko, J. P., & Hess, A. N. (2014). Win-win professional development: Providing meaningful professional development while meeting the needs of all stakeholders. TechTrends, 58(6), 99-108.
Collections
---