Online and Face-to-Face Library Instruction: Assessing the impact on upper-level sociology undergraduates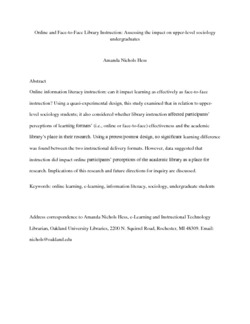 Author
---
Nichols Hess, Amanda

Date
---
2014-08
Abstract
---
Online information literacy instruction: can it impact learning as effectively as face-to-face instruction? Using a quasi-experimental design, this study examined that in relation to upper-level sociology students; it also considered whether library instruction affected participants' perceptions of learning formats' (i.e., online or face-to-face) effectiveness and the academic library's place in their research. Using a pretest/posttest design, no significant learning difference was found between the two instructional delivery formats. However, data suggested that instruction did impact online participants' perceptions of the academic library as a place for research. Implications of this research and future directions for inquiry are discussed.
xmlui.dri2xhtml.METS-1.0.item-citation
---
Hess, A. N. (2014). Online and Face-to-Face Library Instruction: Assessing the Impact on Upper-Level Sociology Undergraduates. Behavioral & Social Sciences Librarian, 33(3), 132-147.
Collections
---